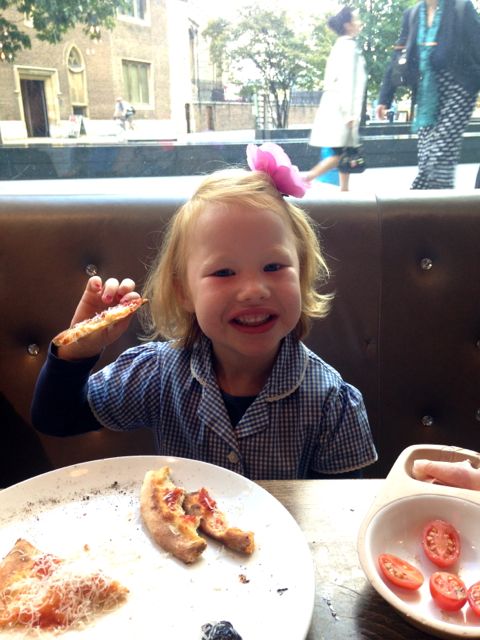 Zizzi Ristorante situated at Tower Hill, near enough to take in the imposing walls of the Tower of London from the panoramic views offered, is light and airy and the perfect place for families to have a meal together.
Harriet and I arrived first and she was immediately given her menu to colour in and some stickers.Unfortunately some of the pencils needed to be sharpened.
The new children's – Bambini – menu offers three courses and a chocachino for £6.75 which is a really good deal plus there is a Really Tiny Tummy alternaitve for £3. Harriet had the carrot, cucumber and dough sticks, followed by a make your own pizza (you can order green beans or broccoli for 50p extra). Harriet was a little disappointed in this as she expected to to make the pizza dfrom scratch (!). The selection pot to decorate the pizza contained black olives, tomatoes and ham.
Olivia and I shared some olives and shared the seasonal special: smoked tomato and black olive garlic bread which was delicious. Olivia then had ravioli di capra which she really enjoyed and I had the rigatoni pollo funghi whcih was great but very filling. To finish Olivia had the new and very appetising lemon meringue sundae and Harriet enjoyed her chocolate ice cream and then the chocacino which was very prettily presented.
The service and attention was excellent and we had a very relaxed meal.
PWT rating: ♥♥♥♥♥
Find your nearest Zizzi Ristorante.