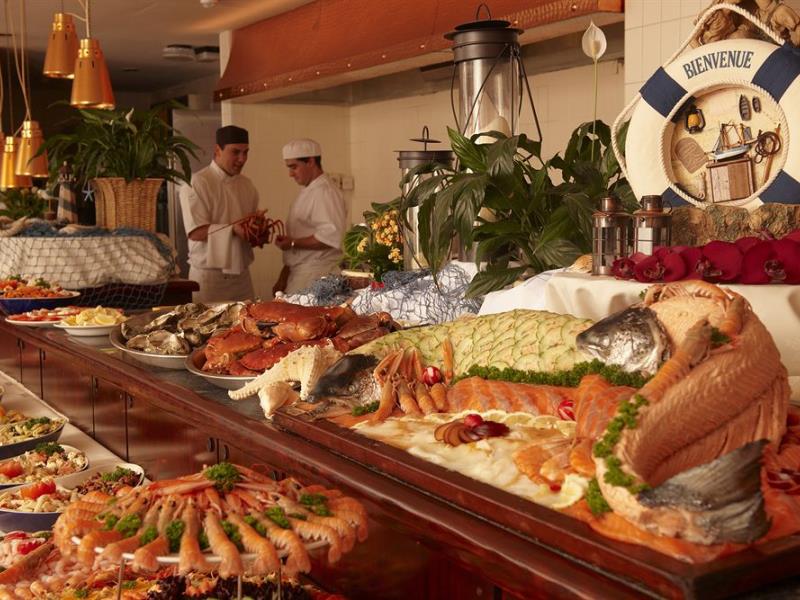 The Hotel Peninsular is famous for its fabulous Seafood Buffet held every Thursday in the Sarnia Restaurant. We were fortunate to arrive on Thursday and were able to try out the delicious buffet.
The restaurant opens at 6.30pm which is perfect for families with young diners and the array of food on offer would tempt even the most finicky of eaters. The Seafood Buffet actually includes a selection of hams and salamis as well numerous salads – there was almost too much choice so you can see why locals book a table time and time again.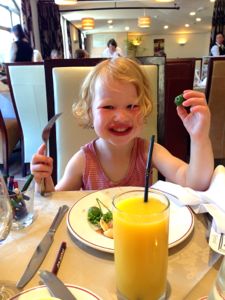 Soup follows on this set price menu (£18.50 and £12.50 for under 12s) then you can choose from five mains that include a vegetarian option. I had the skate which came with a selection of vegetables cooked to perfection. Harriet continued eating from the buffet!
Cheese and deserts completed this appetising and thoroughly appreciated meal. A perfect way to dine out with friends as well as there are no hidden extras except for drinks of course.
The staff at the Sarnia Restaurant were all charming and friendly and the sevice was excellent. Harriet, of course, enjoyed all the attention.
There is a children's menu as well which is presented on a colouring sheet brought with crayons to keep little hands and minds busy. Children's mains include the usual fare of fingers, nuggets and burgers served with chips, rice or potatoes and baked beans, peas or vegetables of the day or they can opt for pasta shells with a choice of two sauces. All are priced at £4.95 with ice creams at £2.95.
PWT rating: ♥♥♥♥♥
To book a table at the Sarnia Restaurant, call 01481 248 400
The Peninsula Hotel Guernsey, Les Dicqs, Vale, Guernsey, Channel Islands GY6 8JP