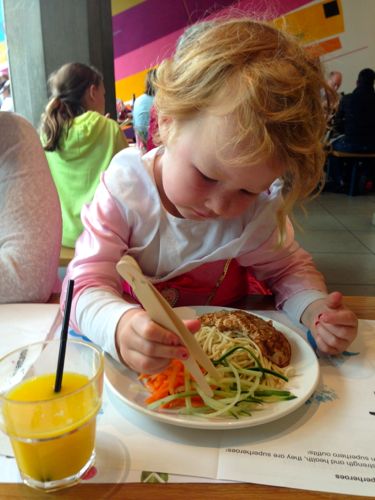 Unlike Olivia, I was new to the Wagamama concept of dining at long tables and having dishes brought to the table as they were ready but it didn't take me long to be seduced by the relaxed and family-friendly ambiance. Harriet was immediately given the colouring pack and crayons to occupy her while we decided what to eat.
To complement the Japanese inspired food, we has a bottle of Wagamama's house white wine, Malvasia which was very palatable and Harriet had a mini juice from the children's menu. We started with some edamame beans with a sauce and some gyoza, crescent-shaped vegetarian dumpllngs.
Harriet had the chicken noodle from the children's menu (a little too much food for her four year old appetite and more than adequate for older children). I had the warm chilli chicken salad – stir fried chicken and veg in a korean bbq sauce served on gem lettuce leaves which was one of the best dishes I've had in restaurants. Olivia had the coconut seafood broth which she found a little on the bland side. We had steamed rice to share and Harriet finished her meal with two cups of cococino (warm milk with chocolate sprinkled on top) which is free on the children's menu.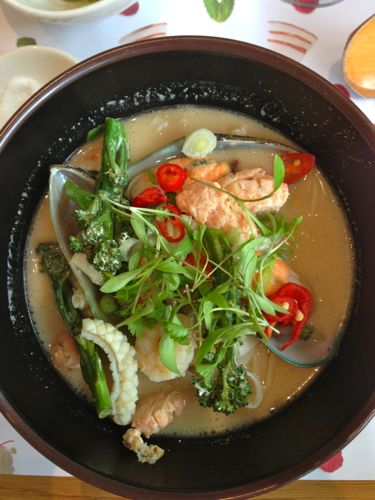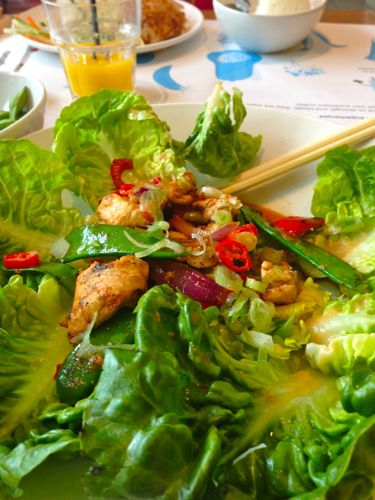 Wagamama is decidedly child-friendly right down to having trainer chop-sticks. I would certainly recommend a trip to Wagamama's.
Our bill with drinks came to £56 (service was not included and staff receive 100 per cent of tips). We were given £50 vouchers to do the review but the restaurant and staff were unaware of this.
PWT rating: ♥♥♥♥♥
Find a Wagamama restaurant near you.