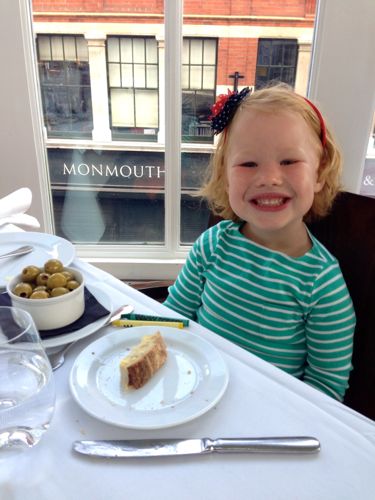 A previous visit to Roast in Borough Market was for a business lunch and it had never occurred to me that this elegant and sophisticated restaurant prided itself on it's child-friendly menus and facilities. All that was put right when Olivia, Harriet and I went for an early dinner. The restaurant has views over the market and London Bridge railway lines plus the dome of St Paul's but inside was a haven of peace and tranquility with lots of space between tables which is reassuring when you have a small person who fidgets dining with you even when she's occupied with the crayons and colouring sheet provided.
Throughout all school holidays children under 12 eat free (saving £7.50 on an evening meal and £10 on a Sunday roast and includes the breakfast menu). Each child must be accompanied by an adult. The children's menu is for two courses so Harriet asked for a bowl of olives and shared my Wiltshire tomato salad and Olivia's Gin-cured Loch Duart salmon with pickled cucumber. Both of which were excellent.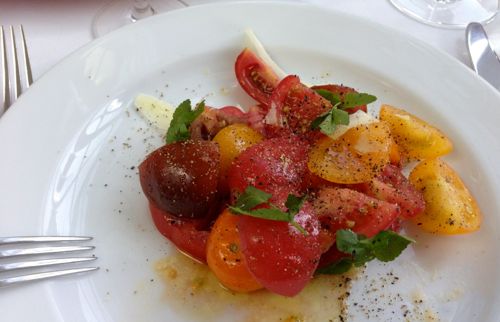 The award-winning restaurant uses the finest seasonal ingredients and supports British farmers and producers many of whom are stallholders in Borough Market, so this makes Roast the perfect place to take overseas guests and visitors to sample the real delights of British cuisine.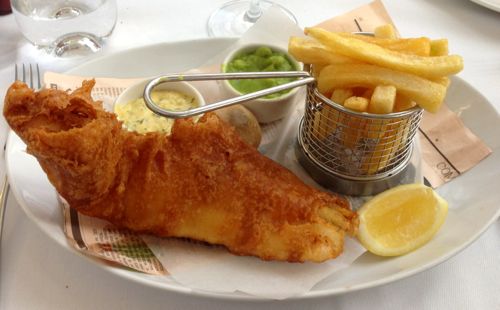 For our mains I had Beer-battered cod and chips with mushy peas which was beautifully presented, the batter nice and crisp and the fish within moist and appetising. Olivia had Chargrilled Aubrey's 28 day dry-aged rib eye steak (350g) with Bearnaise sauce and swapped the chips for her favourite mashed potato all of which she thoroughly enjoyed. Harriet had ham egg and chips and her dessert was chocolate ice cream as she passed on the jelly. Of course she also had a taster of Olivia's Bramley apple and blackberry crumble with custard and we all shared the Neal's Yard farmhouse cheese board with red onion chutney.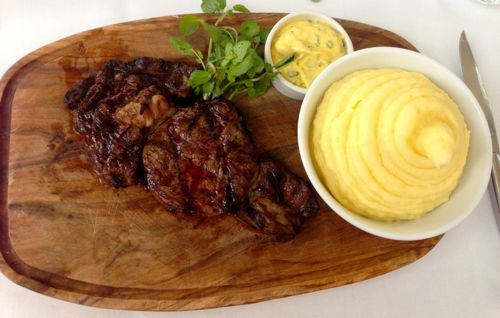 To accompany our meals we began with a glass of champagne and then British wines suggested by the knowledgeable waiters to complement our chosen dishes.
Our experience of Roast couldn't have been better. The relaxed ambiance and smiling, helpful staff mean that adults can feel at ease with their young diners and enjoy their own meals. Roast has highchairs for very young diners and there are baby-changing facilities in the toilets. Access for buggies and wheelchairs is catered for via a lift.
PWT rating: ♥♥♥♥♥
Roast restaurant is open for breakfast Monday to Friday 7am to 11am and Saturday 8.30am to 11.30am; lunch Monday to Saturday 12pm to 3.45pm and dinner 5.30pm to 10.45pm and Sunday lunch 11.30am to 6.30pm set menu only.
Situated minutes from London Bridge, Roast is ideally placed if you are visiting the Southbank, Southwark Cathedral, the Globe and many other London attractions or just fancy a stroll along the Thames pre- or post-meal.
Roast, The Floral Hall, Borough Market, Stoney Street, London SE1 1TL Tel: 0845 034 7300
For this review our meal was complimentary.