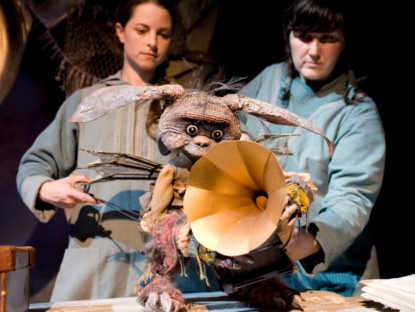 Say opera to many people and they think of high-brow entertainment that isn't for them. So how do you overcome this with children and make opera accessible for the early years age group? Offer them an opera starring puppets acting out a captivating story.
We saw Skitterbang Island at the Little Angel Theatre.The storyline is simple: Maria and her uncle are shipwrecked. Both are washed up on an island separately and Maria meets the resident curious creature, Skitterbang with his cave full of metal and junk salvaged from the sea. Maria and Skitterbang become friends via some beautiful duets and then Uncle turns up with his adult prejudices.
What is amazing is how well puppetry and opera go together. Director Peter Glanville explains that "we cast two trained opera singers (Sani Muliaumaseali'i and Natalie Raybould) and taught them the basics of puppetry throughout rehearsals, and one trained puppeteer (Lowri James) who had a strong singing voice that would sit well with the other performers."
The result was perfect.
I asked Harriet what she liked best and the immediate answer was "everything!" and I would concur. The set was captivating, the performances enthralling and the look of pure joy on Harriet's face at the end was magical.
PWT rating: ♥♥♥♥♥
Little Angel Theatre is designed for children to have the best experience possible – and although there is no allocated seating, aisle seats are reserved for children so they have a good view.
Skitterbang Island runs until 15 June, 2014 and is suitable for ages three to six. Under threes are only admitted to the Baby Friendly performances.