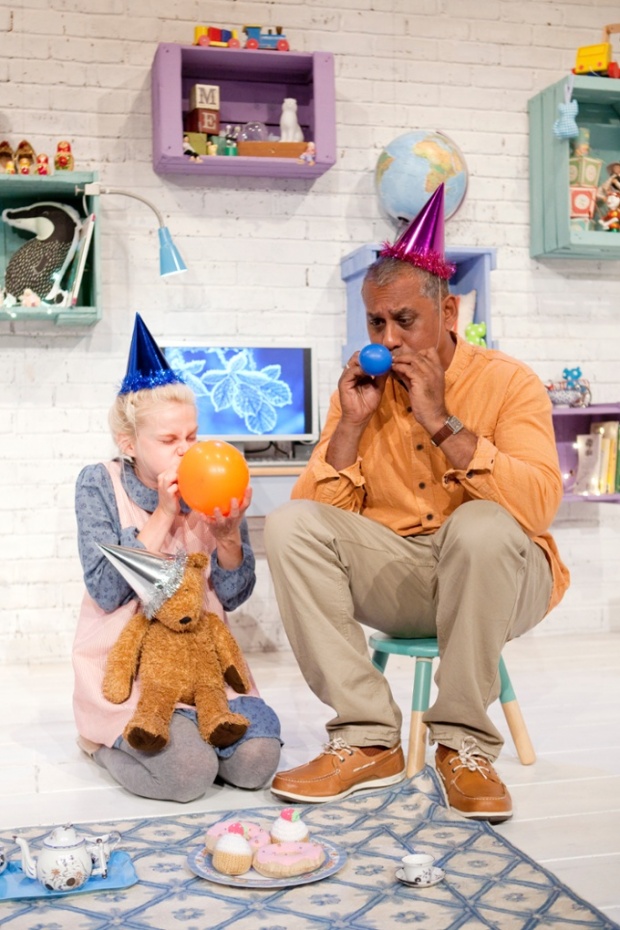 Grandad, Me and Teddy Too, showing until 8 February, 2015, at the Polka's Adventure Theatre, is a charming show created especially for children aged two to five years.
in Grandad, Me ... and Teddy Too, Mia's Grandad lives in Argentina and she's very excited about his proposed visit. She's counting down the "sleeps" and when we meet her there's only two more "sleeps" to go. Teddy, of course, is as excited as she is (although you wouldn't think so from his silence!). Each day Mia has been speaking to Grandad via Skype and at the end of each conversation he has to say goodnight in Spanish – buonos noches – to her toys and then her.
Mia is so excited but when Grandad arrives it isn't quite how she expected it... Grandad doesn't understand her games and she isn't too impressed with his present to her – binoculars. But eventually Grandad rescues the situation introducing her to the world of the imagination even if he hasn't got the energy to hop like a "kangaroo" – an experience many parents will share.
There were enough jokes in in Grandad, Me ... and Teddy Too to keep the adults amused and the children in the audience were laughing out loud. Harriet, at nearly five is at the upper end of the age range and a seasoned theatre goer, loved the journey to the North Pole on the magic carpet. I thought there were some gaps in the narrative which could have been explored more fully. Harriet picked up n the fact that "she went of her bedroom to sleep".
A highlight was a rendition of "I like a nice cup of tea" played on balloons. The acting was excellent.

in Grandad, Me ... and Teddy Too takes place in The Adventure Theatre, part of the Polka Theatre in Wimbledon and is especially for younger children and their families. Children under two are admitted but those aged one and over must have a ticket. The theatre is very relaxed and the audience sits on the floor although there are some benches for adults.
PWT rating: ♥♥♥♥♥
What is lovely about the Polka Theatre is that the building with a child-friendly café, play area, garden and reading corner is free to enter and a lovely place to enjoy with children.
Peter Pan is currently showing in the Main Theatre until 14 February, 2015
The Polka Theatre, 240 The Broadway, London SW19 1SB has wheelchair access, integrated Sign Language perfomances and Relaxed Performances.