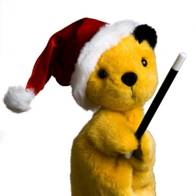 Sooty, Sweep
and
Soo
have entertained generations of
children
and as soon as the lights went down at the
Garrick Theatre
, another group of children became instant fans.
Richard Cadell
who has been Sooty's "right hand man" for the last
12 years
soon had the
audience
screaming delightedly "he's behind you" as he looked for the naughty
bear
, the incorrigible
dog
and the sophisticated
panda
: Sooty, Sweep and Soo. Only Soo speaks – beautifully voiced by
Brenda Longman
– of course so
Richard Cadell
interprets for them.
As it's
Christmas
there's a cake to be made, and much
hilarity
ensues wth flour and cream. The children loved the
gentle humour
, slapstick fun and "old fashioned set".
Harriet
at 20 months was enchanted. She joined in the
clapping
, shouting and was
laughing
happily.
Giving Richard time to get cleaned up, Uncle Harry (
Harry Barrett
) from the circus appeared with his
performing budgies
which were genuinely funny.
Then it was back to the
trio of puppets
and a debate about whether
Santa
would arrive – by this time
Soo
, wanting to look her best has changed her dress three times!
Santa
arrived and left
presents
for everyone including
Harry the Robot
, who'd made an earlier appearance, and all the children who received a
Sooty goody bag
as they left the
theatre
.
An
excellent
hour's
entertainment
which had the adults smiling too!
Sooty Christmas Show perfomance details.
PWT rating
: ♥♥♥♥♥