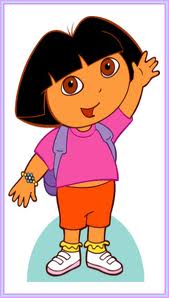 Dora
travels to a magical world ruled by a
unicorn king
. But all is not well in the
Enchanted Forest
so Dora and her friends will need to be
brave, kind, smart
and
strong t
o bring peace back to the
kingdom
.
Dora's Enchanted Forest Adventure
is a three part special:
Part 1 - Tale of the Unicorn King
Unicornio has been chosen to be King of the Enchanted Forest, but he's unsure that he deserves the title. So Dora and friends take him on a journey to help him realise he's worthy to be king!
Part 2 - The Secret of Atlantis
Dora, Boots and King Unicornio leave the Enchanted Forest to join Diego in a quest to raise the lost continent of Atlantis. But to do that they'll need to end an ancient feud between the unicorns and dragons!

Part 3 - Dora Saves King Unicornio
Dora and Boots return to the Enchanted Forest to find Owl has taken over as king and made new rules that ban scarecrows, elves and fairies from the forest. But the Enchanted Forest is for everyone! Dora, Boots and their forest friends need your help to restore Unicornio as king and make things fair again!
Programme times:
Friday 11 November at 4.30pm
Saturday 12 November at 11am and 4pm
Sunday 13 November at 12pm and 3pm
Saturday 19 November at 1pm
Sunday 20 November at 9am and 5pm
Friday 25 November at 4pm
Sunday 27 November at 12pm