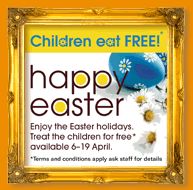 Like Anne Coates, I heartily recommend Barcelona in East Dulwich for fantastic tapas and a warm welcome for children: it's a real favourite with all in my family. However, if you aren't a South London resident then a good alternative is La Tasca, which has outlets across the country.

Their tapas are consistently good, with a vast menu that has something for everyone. The décor is great too, with brightly coloured tiles and cushions giving a real Spanish ambience.

My family has enjoyed leisurely meals at a number of La Tasca restaurants and the staff have always gone out of their way to accommodate the children.

Our favourite is the restaurant at Oxford Circus (at the top end of Regent Street) as James and Tabitha love perching on stools at the high tables made from enormous sherry barrels! Most recently we took a welcome break from shopping at Bluewater to lunch at La Tasca there. The children's menu was excellent value – any two tapas, ice-cream and a drink for just £3.95 – which was just what we all needed before hitting the shops again!
To find a local restaurant log on to www.latasca.co.uk