My 13 year-old daughter, Claudia, and I took a short flight to Geneva and then the train. This couldn't have been easier as the station is adjacent to the airport and the integrated transport system means that you are able to take the luggage trolley on to the train platform!
As you might expect, trains are fast, frequent, and punctual and were never overcrowded: what a refreshing change!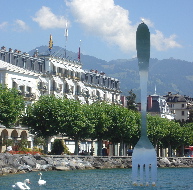 We sat back and enjoyed the stunning scenery across Lake Geneva to the French Alps and an hour later arrived in the delightful little town of Vevey which is an ideal base for families. Like neighbouring Montreux, there is a pretty lakeside promenade with children's playgrounds; a traditional merry-go-round; green spaces; surprising sculptures and lots of opportunities for ice-cream treats plus a colourful market to wander round on Saturdays. We took a pedalo out from the Place du Marché, floated along with the swans and had a swim in Lake Geneva: what a perfect way to while away a hot August afternoon!

We stayed in the three star Hotel de Famille which was spotlessly clean and functional. On the plus side, the hotel has an indoor swimming pool and is centrally located adjacent to the train station which makes it a convenient base for exploring the region. On the downside, the hotel backs onto the station so the noise of the trains in our room was a source of irritation, and would be a real problem for light-sleepers.

In Vevey you'll also find an abundance of cafés and a wide variety of child-friendly restaurants. Le National and the Astra Hotel are both worth a visit: the former is a funky place with a quiet courtyard out the back that teens would love, whilst the latter (directly opposite the Hotel de Famille) is more traditional in décor but the food was contemporary and delicious. Restaurants are really accommodating of children and are only too happy to comply with "off menu" orders of pasta and tomato sauce!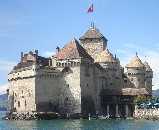 There are numerous great excursions to take from Vevey including a leisurely boat trip to the famous 13th Century Château de Chillon with its numerous literary connections and immortalised by Byron in his work The Prisoner of Chillon.

The view from the lake of this wonderfully elegant castle, with the backdrop of the mountains is fantastic.

We also took the cog-wheel train up from Montreux to Rochers-de-Naye,
the Chocolate Train excursion and visited the Parc Aventure at Aigle (see separate articles)

Getting there
Sian & Claudia went, courtsey of Thomson, on the Lake Geneva Heights & Sights holiday in the Thomson Lakes & Mountains brochure.

Costs
From from £449 per person including return flights from Gatwick to Geneva, transfers, 7 nights half-board in the 3 star Hotel Famille in Vevey on Lake Geneva, all excursions detailed in the itinerary, 2nd class Family Swiss Rail Card (children up to 16 years travel free). Riviera Card giving free travel on some buses and reductions on museum tickets.

Further info: tel 0870 403 0544, www.thomsonlakes.co.uk

For further information on the Lake Geneva Region please visit
www.lake-geneva-region.ch or for general information on Switzerland,
please visit www.MySwitzerland.com