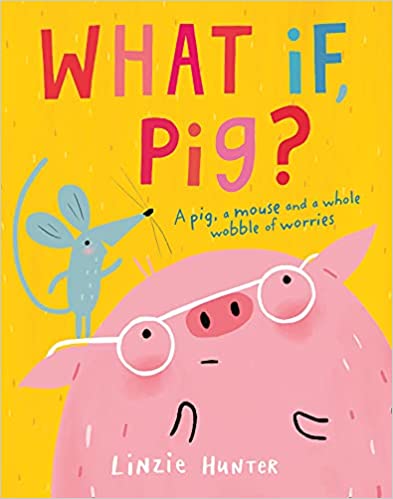 I sat and read What If, Pig? by Linzie Hunter and was immediately struck by how much the themes of worry, anxiety and overthinking resonated with me. As adults we rarely express these concerns but it's so good for us and especially children air their worries.
Pig, with the help of his best friend Mouse, learns to push his worries aside and become more optimistic. And it all begins with the idea for a party – Pig has so many friends and is excited by all the preparations. But what if ... nobody comes, nobody enjoys it all the negatives emerge until Pig cancels the party. His worries have got the better of him.
However he did not allow for Mouse's perfect and heartwarming solution...
I can't be the only one who's hosted a party or event and worried like this!
The story is beautifully illustrated throughout and gives lots of opportunities for adults and children to discuss what is happening. and how they might feel.
A peach of a book with some gentle humour that I loved.
PWT rating: ♥♥♥♥♥
Published by HarperCollins Children's Books and available from bookshops.
What If, Pig?: A wonderful wobble of a story, all about worries - and the friends who get you through them!