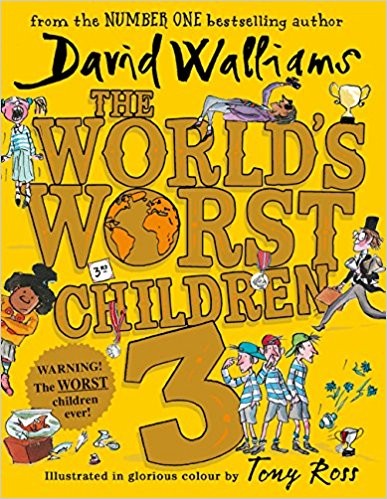 The first two collections of stories of The World's Worst Children were huge bestsellers for David Walliams and I expect number three will be so as well. As a genre I love (and write) short stories and think they are an excellent way to engage children in reading.
Although we haven't read the first two in the series of The World's Worst Children, we have read, enjoyed and reviewed much of Walliams' children's fiction.
The text is presented in an imaginative and creative way using different fonts and type sizes as well as being accompanied by illustrations by the amazingly talented Tony Ross presented in his own inimitable way. I particularly enjoyed "Boastful Barnabus" whose head got so big that ... well I'll let you find that out for yourselves.
Harriet's favourites so far are "The Terrible Triplets", "Honey the Hogger" and "Fanny's Funny Faces" and apparently she loves all the punctuation!
A great book to dip into, ten stories that entertain as well as prompting discussion about the moral of the tale.
PWT rating: ♥♥♥♥♥
The World's Worst Children 3: Fiendishly Funny New Short Stories for Fans of David Walliams Books
is publsihed by HarperCollins Children's Books and is available from Amazon.