What better way to grab a pre-teen and teen's attention than with a book written in a diary format. first person narratives, when well done, engage the reader and carry them along with the story.
My Heart & Other Breakables: How I lost my mum, found my dad and made friends with catastrophe by Alex Barclay and The Offline Diaries by Yomi Adegoke and Elizabeth Uviebinené, both published by HarperCollins Children's Books, are perfect examples of the of the best in young adult writing.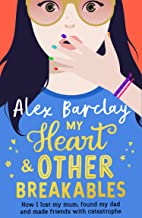 My Heart & Other Breakables
"This is the diary of me Ellery Brown, aged 16 and a half. I think I'm supposed to use it to receord my feelings about my Mom, since she dies.
"So why do I keep thinking about who my dad might be, instead...? My best friend has narrowed it down to three authors my my Mom knew. (She was an author too.) But they're not just in different countries; they're on different CONTINENTS. Which means fake IDs, passports, disguises, plane tickets, and somehow getting away from my self-obsessed grandmother."
As you can see from the excerpt above, the writing just flows and you can't help but be captivated by this engaging heroine with a quick wit and a sense of the outrageous. It will move the reader to tears as you laugh out loud.
PWT rating: ♥♥♥♥♥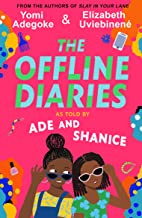 The Offline Diaries
Another very funny, contemporary novel about the friendship between two year 8 girls: Ade who is new to the school as her stepdad has made them move away from her old home and Shanice who since her mother's death has been living with her dad and annoying older sister.
When they meet in Shanice's dad's hair salon they spot each other's big pink diaries and recognise a kindred spirit. They talk online but offline is a different story!
As they navigate secondary school and friendship groups in a fictional world created to inspire and and empower young girls, readers will identify with their situations. Engaging prose and difficult as well as hilarious situations which will resonate with readers.
PWT rating: ♥♥♥♥♥
Both books available from online stores and bookshops.