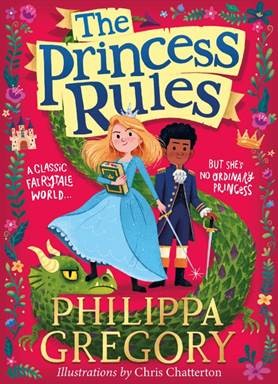 Originally published as Princess Florizella, and written by Philippa Gregory for her own daughter, The Princess Rules has been reimagined in this new beautiful edition for Philippa's grandchildren. As current today as when her daughter was growing up, it is an anthem of independence for girls.
Princess Florizella may live in a classic fairy-tale world, but she's no ordinary princess… She absolutely won't be rescued by a handsome prince or dress the way anyone tells her to dress – and insists, instead, on going off on all sorts of amazing adventures paying no heed to the rulebook for princesses. As far as Fiorizella is concerned she is a prince with two extra s.
The book contains three short stories:
Princess Fiorizella
Fiorizella and the Wolves
Fiorizella and the Giant
The role reversal in these stories is nothing new – think Princess Smartypants
series and Prince Cinders (Picture Puffin)
by Babette Cole picture books for younger children – but it's always good to have an alternative to a patriarchal narrative.
Publishing in a stunningly illustrated gift-sized hardback edition with illustrations by renowned picture book artist Chris Chatterton, The Princess Rules is perfect for readers aged five to eight.
PWT rating: ♥♥♥♥♥
Philippa Gregory has written many hugely successful historical novels and is an advocate for feminism. Works that have been adapted for television and film include A Respectable Trade, The Other Boleyn Girl and The Queen's Fool.