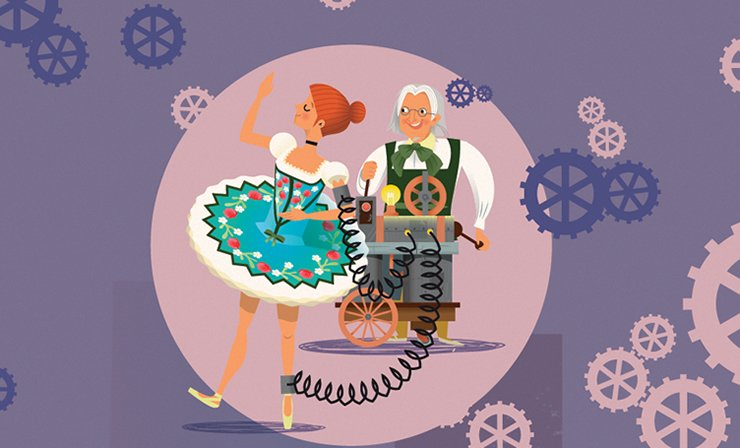 Having been to performances of the first two productions in the My First Ballet series and thoroughly enjoyed them, Harriet and I went to My First Ballet: Coppélia at the Peacock Theatre in London with high expectations. My only reservation was that Harriet when aged two and three had known the stories of Sleeping Beauty and Cinderella but this time wasn't familiar with Coppélia.
I needn't have worried. in My First Ballet: Coppélia the story of the crazy toymaker, Dr Coppélius (Daniel Kraus), his beautiful creation, Coppélia (Naomi Bottomer) and the two young people about to be married the next day: Swanilda (Kaylee Marko) and Franz (Marcio Teixeira Silva) is told with such wit and fun that the audience was spellbound. When Franz first came on stage Harriet turned to me and said, "He's good!" and she now wants to be a ballet dancer after seeing Kaylee Marko. (She gave an impromptu performance down High Holborn after the show.)
As the overture played, Harriet's face lit up. The music by the 19th century French composer Leo Delibes is rousing and engaging for young children and George Williamson's choreography with Tamara Rojo's artistic direction was captivating.
The role of the narrator, to explain the story and what was happening to the children, was given to Dr Coppélius and this was inspired – the outsider commenting on the action.
My First Ballet: Coppélia features second year students at the English National Ballet School in performances produced by the English National Ballet.
My First Ballet: Coppélia is pitch perfect and an ideal introduction to classical dance. If anything I think this third ballet in the series is our favourite. The previous two involved the young audience in more of a pantomime way. Coppélia seemed more authentic. Don't miss it.
PWT rating: ♥♥♥♥♥
My First Ballet: Coppélia tour dates.