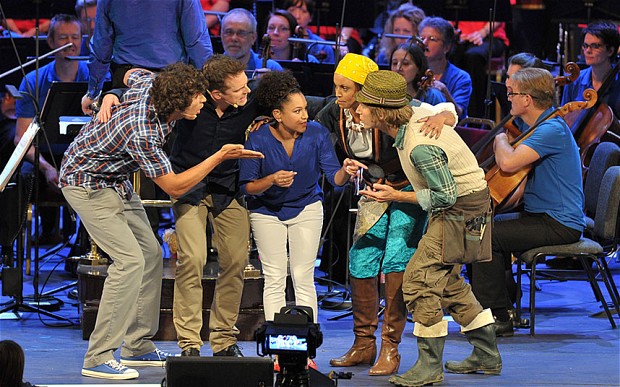 What better way to introduce children to live classical music at the Royal Albert, than to use the talents of familiar Cbeebies presenters.
In a filmed introduction Justin Fletcher presented the Philharmonic Orchestra and Stephen Bell, the conductor, then Katy Ashworth, Gemma Hunt, Mr Bloom (Ben Faulks), Cat Sandion, Chris Garvis and Andy Day took to the stage, shortly followed by my personal favourite Robert the Robot (Steven Kynman) complete with feather duster. and later Jack and Salty (Bernhard Cribbins) – the first dog to appear at the Proms.
The music was introduced via themes and stories CBeebie Prommers would understand:
Hornpipe from Fantasia on British Sea-Songs, by Sir Henry Wood
Parade of the Charioteers, by Miklós Rózsa
Old Jack's Boat Theme, by Paul Honey
Finale (Dargason) from St Paul's Suite, by Gustav Holst
Midnight from Cinderella, by Sergey Prokofiev
Big World Magic, arranged by Peter Willmott
Around Sound, by Barrie Bignold
The CBeebies presenters appeared in the aisles around the hall and there was plenty of audience participation especially for the last piece which included all the sounds Robert the Robot had collected in London. The audience was divided into sections and everyone joined in. The concert lasted an hour with no interval.
We all loved the Prom and, judging by the reactions in the Albert Hall, so did everyone else.
PWT rating: ♥♥♥♥♥
The CBeebies Prom was broadcast live on BBC Radio 3 and you can catch it for 30 days on the Proms website.
CBeebies Prom will be broadcast on television over the August Bank Holiday weekend.