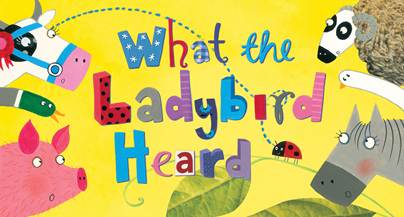 If your children have loved Julia Donaldson's prize-winning picture-book (and even if they haven't read it yet), they will be entranced by What the Ladybird Heard on stage. Linda Monks, who illustrated the book was invovled in the transformation of book to theatre so there is a wonderful sense of continuity and familiarity.
I won't spoil the experience for you but suffice to say that the talented and energetic cast of Rosamund Hine – Jo, Rachael Henley – Lily, Matt Bateman – Hefty Hugh, Matt Jopling – Lanky Len and David Shute – understudy/asm engage the young audience – and parents – from the opening moments and you are swept along by the story and music for one glorious hour (there is no interval). Children and adults are encouraged to join in, in the best pantomime tradition.
Animals are created to great effect on stage to populate the farm where where the prize-winning cow becomes a target for two burglars. Only the ladybird "who never said a word" can prevent the dastardly deed in a very cunning way.
We adored this production which is a perfect introduction to live performance for three-year-olds and a brilliant experience for children, like Harriet, who have already been to the theatre many times – and you'll love the singalong songs!
This is children's theatre at its best.
PWT rating: ♥♥♥♥♥
For tour dates and booking see What the Ladybird Heard.