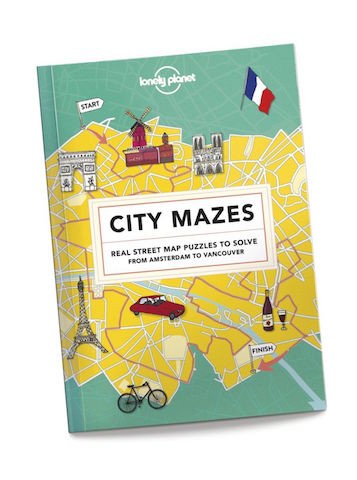 Lonely Planet's City Mazes is perfect for puzzle fans who love to travel. This fun, challenging and beautifully illustrated activity book takes readers on a journey across 30 of the world's greatest cities. Alongside famous sights like the Eiffel Tower and Empire State Building.
City Mazes is an engaging and challenging way to explore some of the world's most famous urban destinations. Alongside visiting famous sights, creative mazes takes readers off the beaten track to discover hidden gems, flea markets, galleries, unusual shops, restaurants and more. Each destination is based on a geographically accurate street map and bought to life with facts to inspire a visit in real life.
Each city has a map on a double page spread followed by two pages of information on places to visit. Harriet, living in London, liked to check out these pages too.
Harriet went straight to Paris. Introduced to her via the DVD of Ballerina, she is keen to explore the capital of France and we hope to make this the destination of a city break this year.
To differentiate the cities, they are grouped into areas:
North America
South America
Europe
Africa
Asia, and
Australia
And at the end of the book are the solutions to the puzzles.
PWT rating: ♥♥♥♥♥
City Mazes (Lonely Planet)
is available from Amazon and book shops.