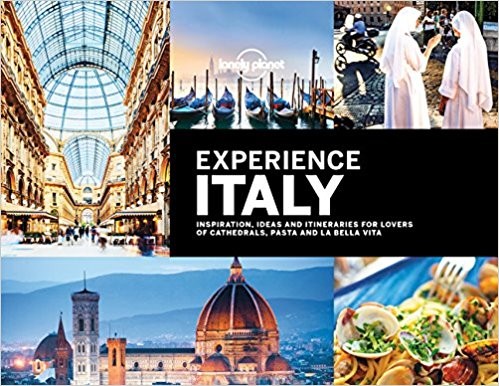 Experience Italy is a not your average travel guide. It's a beautiful book which will make you look at Italy and all she has to offer in a new light. It encourages the traveller to explore from your armchair in preparation for a visit.
The book (Experience USA is another title in the series) introduces readers to the personality and soul of Italian culture. Chapters are arranged around themes like food & drink, art & culture, landscapes & wildlife, history and more. A side panel on the page links to other experiences highlighted in the book so from Arts, History & Design you can follow the direction to Rome's Ancient Wonders p52 or (one for Harriet) the Ruins of Pompeii p56.
Experience Italy is a hardback with amazing photographs to whet your appetite for the sights and activities which might tempt you on holiday. It's a book to dip into and peruse at leisure with a decent index for you to check out particular ideas.
You won't be taking this book with you on holiday but it will certainly prepare you for the adventures ahead. With so much information – for instance museum opening times, routes to get somewhere and so on available on line you don't really need it in a book (especially when it can be out of date so quickly) to this is a book to keep on your coffee table to delve into and be inspired creatively. The practical stuff is available elsewehere.
PWT rating: ♥♥♥♥♥
Experience Italy (Travel Guide)
from Lonely Planet is available from Amazon and book shops.