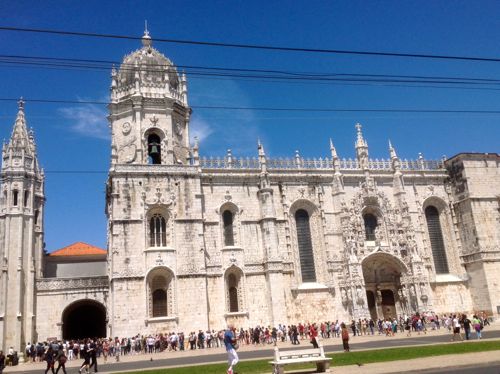 Lisbon is built on seven hills with picturesque views across the city and the River Tagus. Many of the streets are hilly and the pavements cobbled, so comfortable, flat shoes are definitely recommended.
Although Lisbon is relatively small compared to cities like London and Paris, the sights are fairly spread out, so we purchased a tourist bus ticket lasting for 48 hours and costing 25 Euros, enabling us to travel around listening to the commentary via headphones.
These tourist bus tickets range in price from 5 to 40 Euros depending on the duration and choice of tours. A reduction of approximately one third of the adult price is given for a child's ticket with a further 10 per cent discount if purchased on line. By "hopping on and off" these buses, we visited:
The Cathedral with its defining bell towers and rose window
Saint George's Castle with fine views across the city and the river
Jeronimus' Monastery and church, with the tomb of Vasco Da Gama, a famous Portuguese explorer
The tower of Belem, a former fortress on the river at the entrance to the city
The Monument to the Discoveries celebrating Portugal's history as a seafaring and exploring nation
The Park of Nations with views of the seventeen kilometre Vasco Da Gama bridge across the Tagus, built to mark the explorer's epic voyage to India in 1498
The Alfama quarter with its quaint narrow streets and decorative tiles, influenced by Moorish designs, on the facades of many buildings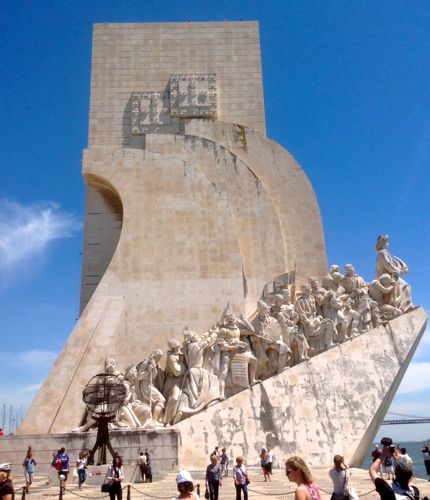 As well as the tourist buses, Lisbon's transport network comprises trams, buses and the metro. Journeys cost 1.40 Euros for a single trip with the option to purchase a travel card if making multiple journeys. We used the metro to and from the airport, which enabled us to cut down on travel costs by not hiring a taxi.
Some places of interest to younger travellers
The Oceanarium, cable car and hands-on science museum, all in the Park of Nations
The proximity of the Atlantic coast
A city farm and zoological gardens
The Estrela and Eduardo V11 parks
The funicular railway and Santa Justa Elevator
In addition, a journey on an old-fashioned tramcar number 28 is to be recommended. This climbs up some of Lisbon's narrow and charming streets, although be prepared for crowds of passengers. Also, be sure to listen to the traditional Portuguese Fado music in one of the restaurants in the Bairro Alta or Alfama districts.
There are numerous cafes and restaurants with a range of different cuisine to suit all tastes and pockets but I do recommend baked codfish and fresh sardines, Portuguese specialities. The delicious custard pastries, made from a secret recipe, are definitely not to be missed!
In order to keep costs to a minimum, we stayed at the Unreal Hostel in Rua Pedro Nunes, which is centrally located. Our room was basic but clean with an ensuite shower and moderately priced.