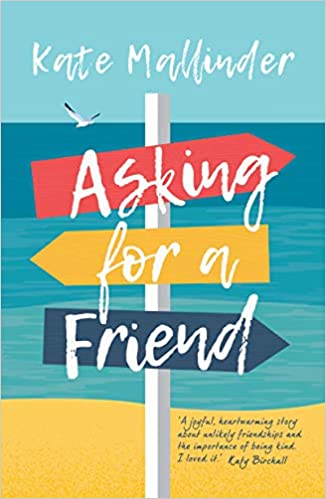 There is something so wonderfully reassuring about opening a book, reading the first page and just knowing you are in for a treat, knowing the high quality writing is going to take you on an impressive fictional journey.
This was the case for me with Kate Mallinder's Asking for a Friend written from the viewpoints of three young people about to take their GCSEs. Each is struggling with loneliness compounded but their particular problem. Agnes is on the autistic spectrum, she now lives alone with her mother and cannot under understand or accept that her older sister has moved away. Hattie has been accused of kissing her friend's boyfriend and no one will believe her side of the story. Jake is so terrified of a lump he's found he isolates himself from his beloved sports team.
Agnes and Hattie are "school bus friends" who travel together. Jake sits behind them and gradually joins in their conversations and their plan to spend a week in Weston during the Easter break. Each has a reason to want to get away. Three very different teens who have to face their own demons.
As you may have guessed from the opening of this review, I loved Asking for a Friend. The voices of each of the protagonists shine through the narrative. The problems they face and deal with – loneliness, ghosting and fear – are brilliantly depicted and handled with skill and empathy by the author.
The power of friendship and how it affects lives it perfectly portrayed and there is a cast of adults who are all well-developed.
The ending is a perfect and satisfying resolution.
PWT rating: ♥♥♥♥♥
Published by Firefly Press, Asking for a Friend
is available from Amazon and your local bookshop.
Please support your local bookshop during lockdown many are ordering and delivering books to customers. Or you can arrange to collect.