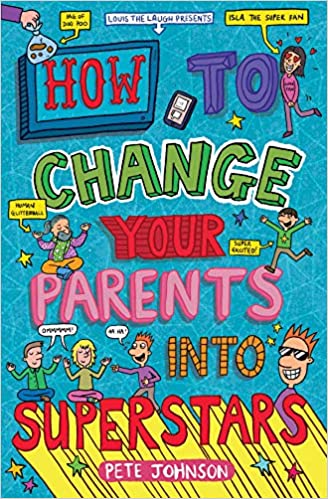 This is the sixth book in the Louis the Laugh series but the first one I've seen and read. How To Change Your Parents Into Superstars by Pete Johnson and illustrated by James Cottell can easily be read and appreciated as a standalone but I'm sure lots of young readers will enjoy catching up with Louis' exploits in the earlier books.
Pete Johnson has a fluent and engaging style which will appeal to adults as well as younger readers. Some of the situations are laugh out loud or hands over face in embarrassment for Louis (pronounced Loo-ee not Lewis please note) and his girlfriend and agent Maddy – a character I loved.
Recovering from being dropped from a vlog, Louis is determined to succeed on his own – with the help of Maddy of course. But nothing goes his way and while his jokes may be funny they lack a wide audience. Then fate plays an even bigger trick when Louis' parents become an internet sensation... and it all began with the "Dare to be different" interview.
Perfect reading when someone needs cheering up during lockdown. A great present to give for the beginning of the summer holidays.
PWT rating: ♥♥♥♥♥
How to Change Your Parents into Superstars (Louis the Laugh)
by Pete Johnson and illustrated by James Cottell is published by Award Publications Ltd is available from Amazon.