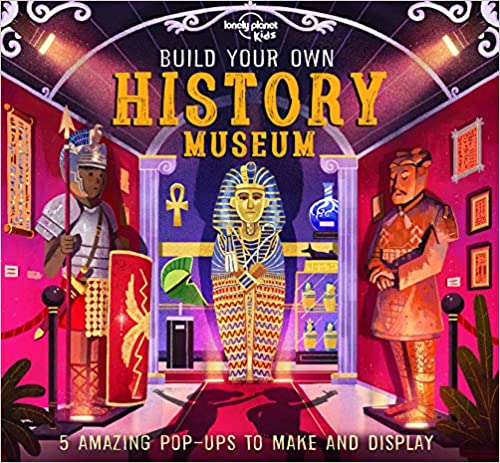 Lottie and I enjoyed looking at Build Your Own History Museum by Claudia Martin together. It is very bright and colourful and would appeal its target audience. It has double page spreads dealing with each of the ages of civilisation outlined in Lottie's review (below). You then make your own pop up book by releasing the artefacts, assembling them and attaching them to the page.
Lottie managed the first two processes by herself but needed a little help attaching them to the page. She found that the information given was interesting but on topics that she had covered at school, like the Egyptians, Romans and Greeks, it was quite limited and she knew it already. However, the book contained information about civilisations she had never even heard of.
Overall, it is a lovely book that informs as well as being interactive.
Lottie's review:
This book is outstanding and entertaining. Especially when you're bored! This book is about history, sooo much to learn. Even though I knew some of it there were topics that I had no idea about! And you just keep learning. It's really helpful especially for school. It can do so many things help you to read, help you to learn about history and it helps you with your creativity as well. If you're a crafty person like me you would love it! All that you have to do is look at the instructions, go to a page you want, then press out the picture out and pop it into your page.
I would give it infinite stars. I would love to do something like this again.
PWT rating: ♥♥♥♥♥
Build Your Own History Museum (Lonely Planet Kids)
is available from Amazon.