Perfectly timed for the half term holidays and greater restrictions on our lives during the pandemic, comes Claire Balkind's Great Family Days In published by Bluebird Books For Life.
I love this book and the perfectly pitched tone of the author who is a secondary school history teacher and runs a Facebook group as well as having two daughters. Claire is chatty and encouraging without ever being hectoring or patronising. It's like having a best friend sitting with you and sharing her ideas.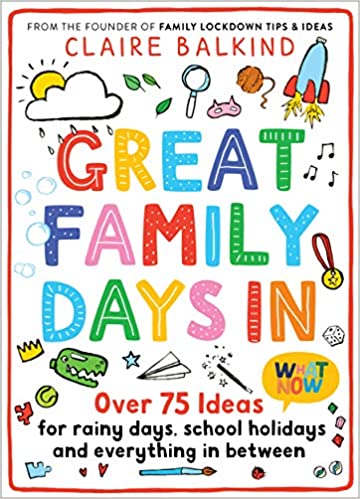 Subtitled Over 75 Ideas for rainy days, school holidays and everything in between, Great Family Days in is divided into eight sections:
1. Achievable Art
2. Tried and Tested Crafts
3. Whizzy Easy Science
4. Let's Get Physical
5. Screen-free Games Time
6. The Great Outdoors
7. The Great Indoors
8. Wellbeing Wonders
with other pages giving useful information on what to stock up on, timetables and a How To Use This Book.
Great Family Days In is beautifully laid out and sections are colour coordinated. Achievable Art (green) has a useful SHORT OR TIME box and the next four sections have a TOP TIP. Most of what you need are ordinary household items or ingredients and others you can buy cheaply.
The book is designed to give the parent confidence to plan and enjoy family time. Activities are designed for all ages so you can adapt for and support a younger child and let an older one add their own interpretations.
Both inspirational and down to earth, this book could become your lifesaver – buy it and keep to hand.
PWT rating: ♥♥♥♥♥
Great Family Days In: Over 75 Ideas for Rainy Days, School Holidays and Everything in Between
by Claire Balkind and published by Bluebird is available from Amazon and bookshops.