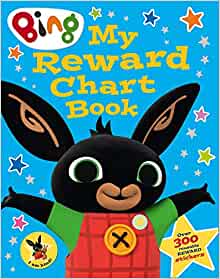 Bing – My Reward Chart Sticker Activity Book is perfect for pre-schoolers who love the CBeebies animated series.
This beautifully presented activity book covers all the topics that two to five-year-olds struggle to accomplish:
Taking Turns
Being Kind and Caring
Being Careful
Being Brave
Catching the Toilet Train
Good Listening
Trying Hard
Saying Please
SaYing Thank You
Being Helpful
Tidying Up
Having a Bath
Brushing my Teeth
Being a Good Friend
Each activity has a few sentences as an intro with some fabulous illustrations with places to attach stickers and each provides plenty of scope for chatting with your toddler. In the centre of the book is a chart which can be removed and stuck up somewhere.for the week ahead with an extra column for rewards.
Children love reward charts and for those who adore Bing this is the ideal book.
The stickers are reusable so can be pulled off and used again for the following week.
PWT rating: ♥♥♥♥♥
Bing My Reward Chart Sticker Activity Book (Bing)
from HarperCollins Children's Books is available from Amazon and bookshops.