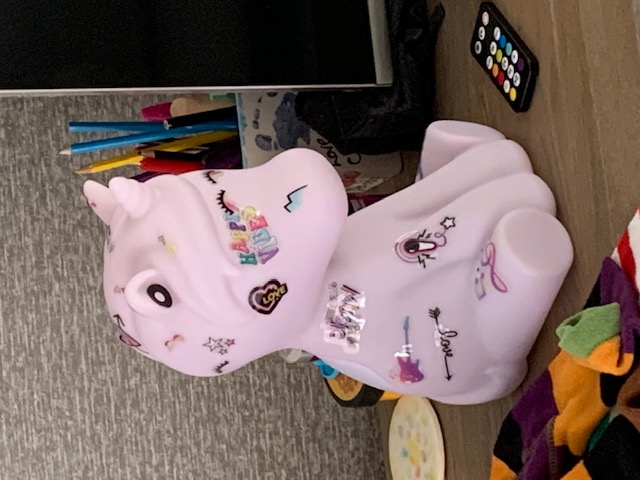 Another amazing success story from Canal Toys! The Studio Creator Unicorn Speaker provides children (and adults) with hours of audio and visual fun. The Unicorn arrives as a white, plain figure and children personalise her with the charming stickers provided. No two Studio Creator Unicorn Speakers are therefore the same, making it unique to your child and their imagination. This is our own Studio Creator Unicorn Speaker above. She's so cute!
At first sight the Studio Creator Unicorn Speaker may seem ordinary, quiet and unimposing. However once charged (using the USB provided) or paired through Bluetooth to a suitable electronic device it comes alive. It is transformed into a fabulous all-singing, all-flashing speaker. (For health reasons be careful of the flashing lights). Furthermore it even has its own easy-to-use remote control.
Our four and a half year-old granddaughter and 16 month old grandson couldn't get enough, with their favourite tunes uploaded (yes there was a selection from Frozen and The Showman) and the flashing disco lights for accompaniment. There was lots of laughter, singing and dancing going on – it was so infectious we adults couldn't resist joining in.
There are no wires to worry about so it can be taken anywhere.
It can also act as a nightlight as the lights can be non-flashing and act as a simple glow in the dark. That is if the children can resist activating it during the night or early in the morning. If you take this approach then advice would be to leave the remote in an inaccessible place
I think our house would be a sadder place now without the Studio Creator Unicorn Speaker. Highly recommended.
PWT rating: ♥♥♥♥♥
Available from Amazon:
My Music Creator INF 006 Unicorn Wireless Light Up Speaker, White