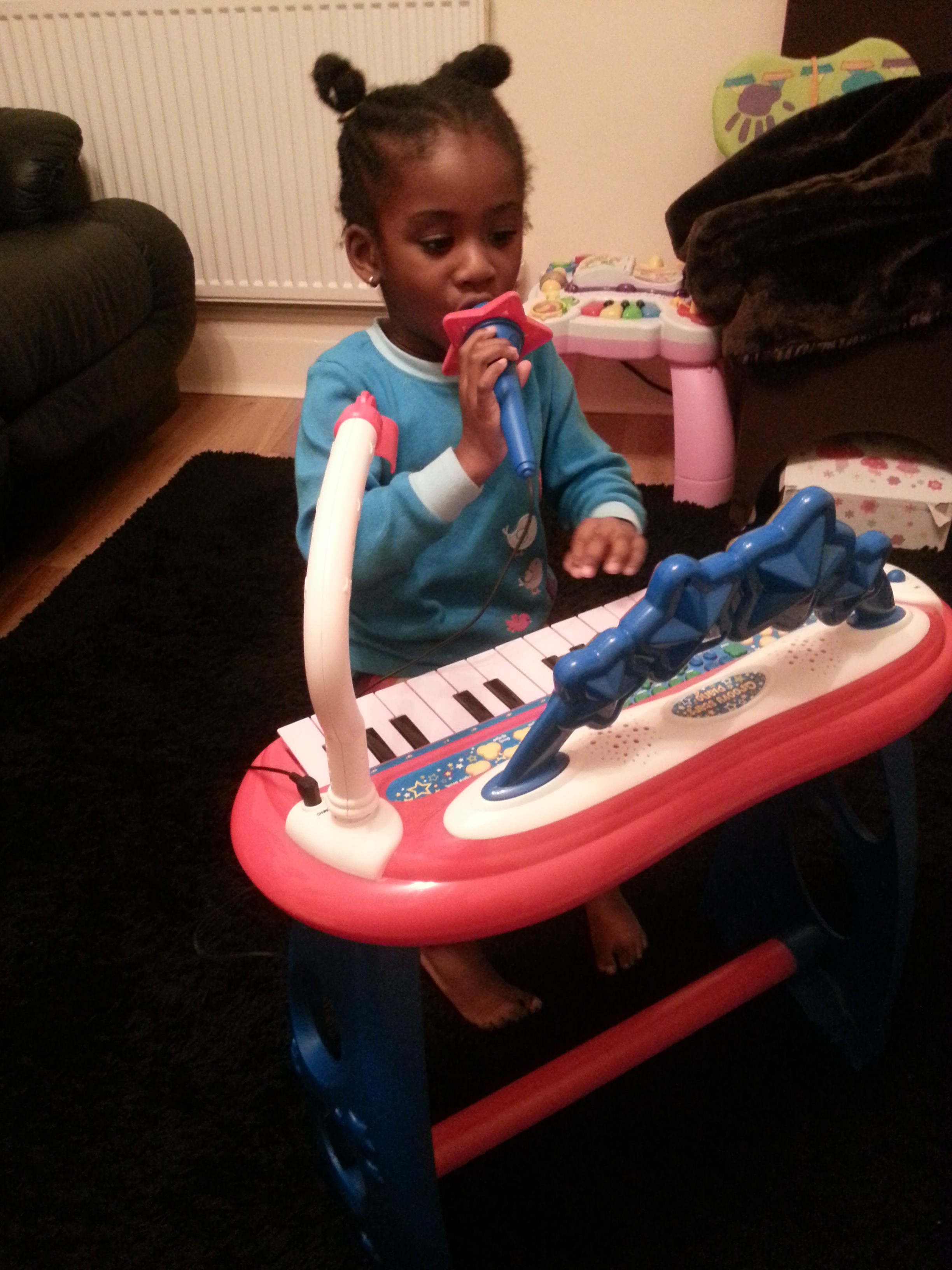 The Buzzing Brains Rock Star Keyboard and Stool was very easy to assemble and was up and running within ten minutes. The stool is at the perfect height for the keyboard and Victoria was able to sit comfortably whist playing.
Victoria loves to sing and so the microphone was a real hit. The keyboard lights-up every time a key is pressed which further added to Victoria's excitement. I appreciated the volume controls since my lovely just loves singing as loud as possible. Notably, the volume resets to a low level when the keyboard is turned off and on.
Victoria loves the record and playback button to my dismay, and gets a kick out of continuously replaying her recorded voice. The keyboard is equipped with eight demo songs which are a great addition to all of its other features which include:
eight instruments sounds (trumpet, organ, violin, piano, mandolin, bell, music box, guitar)
eight rhythms sounds (march, waltz, samba, rock, slow rock, blues, new age and disco)
drums and animal sounds.
Currently, Victoria's favourite songs to perform in her mini concerts are "Jingle bell rock" and "Away in a manger". She likes shouting down the house with her songs; it's a pleasure to see her enjoying herself so much.
My Victoria is obsessed with the Kiddicare keyboard, she would play with the Buzzing Brains Rock Star Keyboard and Stool for hours on end if allowed. Without a doubt, this is a great toy that would keep any child well entertained and occupied.
Warning: the Buzzing Brains Rock-Star Keyboard and Stool requires four AA batteries, which are not provided. Consequently, if bought as a Christmas gift, Christmas day would be disappointing for the little ones if batteries were forgotten.
PWT rating: ♥♥♥♥♥
Buzzing Brains Rock Star Keyboard and Stool is availabel from Kiddicare £29.99 with free next working day delivery.