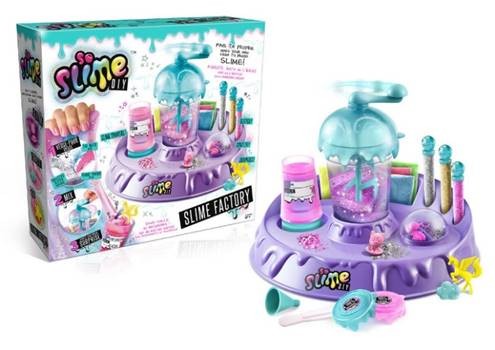 Personally I fail to see the attraction of Slime but I know children love playing with it. Harriet's face was a picture of delight when she saw the So Slime DIY Factory and she couldn't wait to open the packaging. What was inside was everything you need to mix pastel neon colours, add confetti, glitter and even a cute surprise collectible for the most creative, colourful Slime yet.
The instructions are easy to follow but although it's billed as a "no mess activity – all you need to do is add water – we found that opening the separate bags of glitter meant some spills were unavoidable. And there was a lot of plastic packaging that could be rethought.
That said, Harriet had great fun creating her ultimate So Slime, which involved timing the water added to the powder (ten to 20 seconds), then turning the mixer for two minutes and then letting the slime stand for five minutes. Proudly she wrote her name on one of the enclosed labels and stuck it on her tub. She was looking forward to showing it to her friends. One thing to remember is that if the slime isn't played with regularly it liquidifies and you could have a mess on your hands (or the floor) when you next open the tube.
The So Slime DIY Factory (SRP £19.99) comes with plenty of supplies to provide hours of fun:
PWT rating: ♥♥♥♥♥
Also available in the Canal Toys range:
So Slime DIY Shaker 3 Pack Cosmic or Rainbow SRP £9.99 – two designs to love: Cosmic and Rainbow, each packed with fabulous colours, decorations and super cute characters that make this slime special.
So Slime DIY Shaker SRP £3.99 – a great pocket money kit. Make your own unique slime with this mess free pack. Within minutes your slime creation will come to life; mixing water, colourful slime powder, decoration and a cute surprise. Collect the Cosmic, Pastel and Neon Shakers.
So Slime DIY Case SRP £14.99 Making your own Slime in minutes couldn't be easier; add glitter, decorations and colourful slime powder to the shaker and create neon slime that's entirely your own design.
So Slime DIY Maxi Tube SRP £19.99 For the ultimate slime party there are eight So Slime Shakers in this pack, to design fabulous neon slime with friends means guaranteed fun.