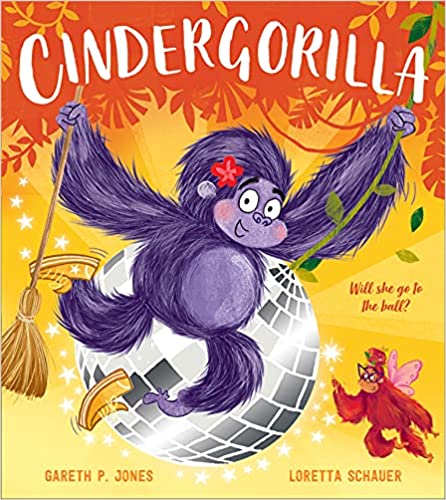 The first book in the Fairy Tales for the Fearless series, Rabunzel, was Waterstone's Best Children's Book of the month so Cindergorilla has a good pedigree.
Written by Gareth P. Jones and illustrated by Loretta Schauer, Cindergorrilla is a retelling of the Cinderella story with a feminist twist. This sub-genre has become popular more recently steering younger children away from the saccharine, animated versions of fairy stories in the last century.
Cindergorilla loves to dance and longs to go to the Saturday Night Disco Ball, where other gorillas strut their moves. However her horrid aunt and cousins Gertrude and Grace always make her stay at home to do the chores. All that changes when she is visited by Her Hairy Godmother...
A fun interpretation of an age-old story, Cindergorilla is fun to read and offers lots of discussion points to encourage discussion between the adult and child.
Loretta Schauer's illustrations are delightfully engaging and dynamic.
PWT rating: ♥♥♥♥
Published by Farshore and available from bookshops and Amazon:Cindergorilla: A fun-filled twist on the classic children's fairy tale Cinderella, celebrating resilience and becoming your true self!