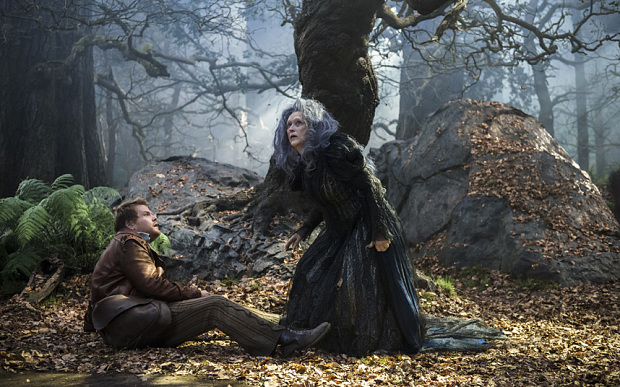 I never saw Stephen Sondheim's musical Into The Woods which was written and premiered in the 80s to great acclaim so cannot make comparisons to the Disney film version which has just opened in UK cinemas.
Four fairy tales – Rapunzel, Cinderella, Little Red Riding Hood and Jack and the Beanstalk become entwined as the baker (James Corden) and his wife (Emily Blunt) go into the deep dark wood to search for the four items that the wicked witch (Meryl Streep) needs to make the potion to regain her beauty. In return she will lift the curse of childlessness she has placed upon them.
This is a far away land in which fairy tales do not always end happily – especially when the female giant (Frances de la Tour) lands in the wood to seek revenge on Jack (Daniel Huttlestone) for stealing her golden harp. Tracey Ullman as Jack's mum will strike a cord with an exasperated parent. There are some wonderfully comic moments – Johnny Depp plays the big bad wolf as though born to the role perfectly paired with Lilla Crawford as Little Red Riding Hood.
Lots of the action and acting is over the top as in pantomime – as in the wonderfully camp duet sung by the princely lovers of Cinderella and Rapunzel is fabulous (Chris Pine and Billy Magnussen) – but there are darker moments too with the deaths of some characters.
The laugh out loud moments were enjoyed by the audience in the cinema I went to and I'd recommend it to families with older children who know the fairy tales and will be amused by the manipulation of them.
Film cert: PG
PWT rating: ♥♥♥♥♥