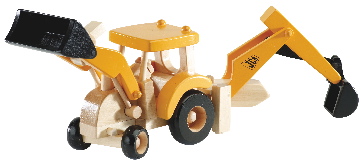 With two younger brothers, numerous family car journeys in the 70s were spent looking out for distinctive yellow diggers so they could should out "JCB!" with delight. How they would have loved the JCB wooden backhoe loader sent for Toby to review.

It was good to see that the JCB brand was still recognised and admired by our three year old some thirty years later. "This JCB is big and shiny and new," was Toby's summary. 'I like it.'

The JCB backhoe loader looks great. Hand-crafted from sustainably sourced solid birch, it feels solid and well made. All paints and varnishes used are non-toxic and non-harmful to children and the environment. The digger features fully working front and rear buckets and front wheel steering.
In 2006/07 it was the Gold Award Winner of the Good Toy Awards and won best in the 12 to 36 months category.

I can see why this toy won the awards and as a parent it is the kind of toy that you want your child to have due to its scope for creative play and beautiful and ethical wooden design. My reservation is that our three year old quickly lost interest in the JCB. He wanted to whiz it around our wooden floor as is his way with all vehicles and trains, but the wooden wheels meant it could only be pushed.
Sadly I feel he is already too old for the toy. This is a real shame, as I wish we'd discovered these wooden toys before his first birthday. However, at three and three quarters he is happier with a smaller vehicle which can drive fast and be incorporated into imaginative play with his other construction and speed vehicles.
[Anne comments: Well, you'll have it ready for baby Pippa to enjoy!]

The JCB backhoe lo ader comes in two sizes, medium and large.

JCB Medium Wooden Backhoe costs£29.99 - for stockists ring: 01889 593 564