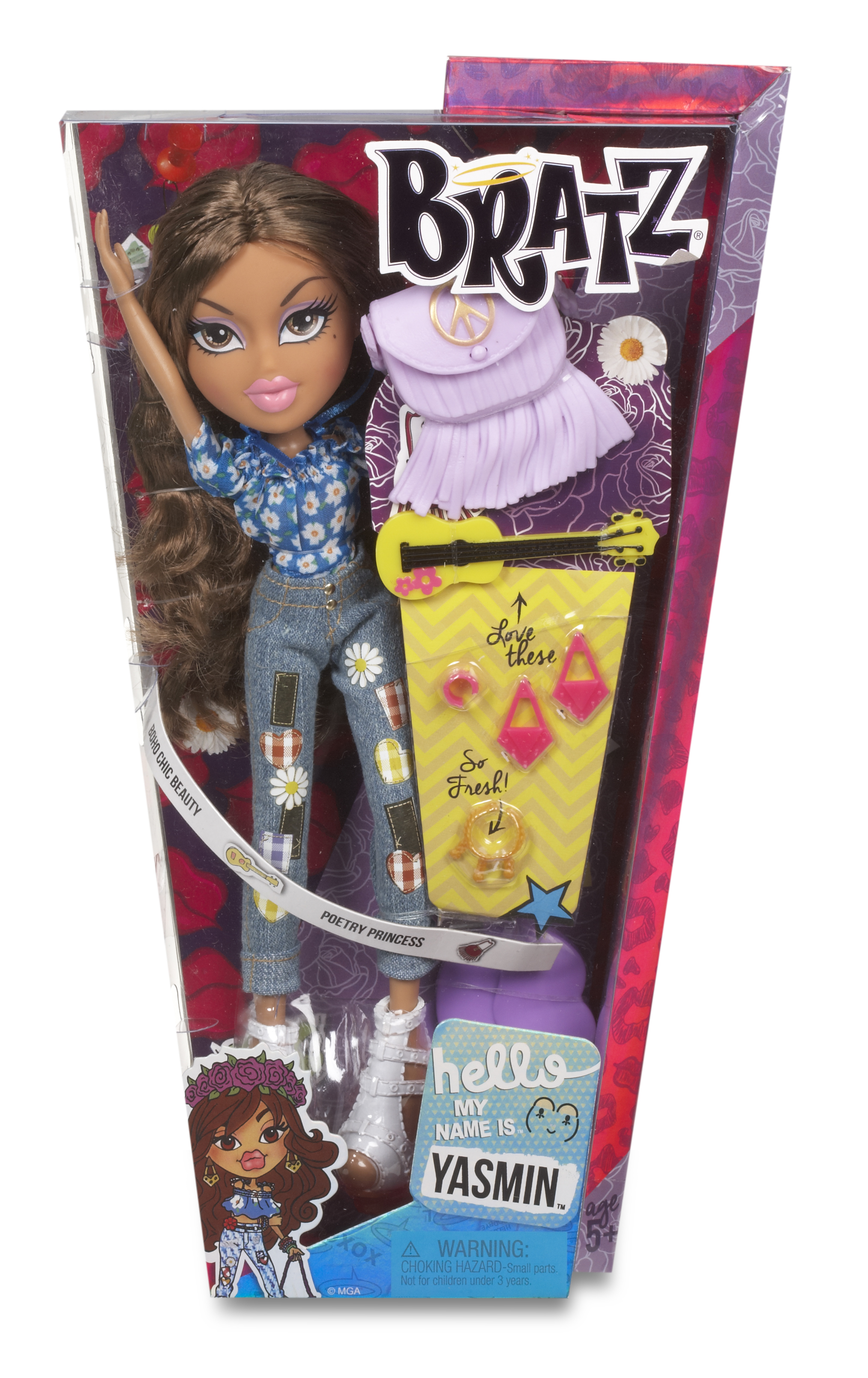 Harriet was over the moon when she saw the Bratz Hello My Name Is™ Yasmin. "Alice has one of these and I wanted one!"
Soon the box was opened and Yasmin inspected. Earrings and bracelet were attached but the greatest attraction was the long hair and the accompanying brush. Yasmin also has a bag bearing a CND emblem and a guitar.
The iconic doll has a very large head and feet plus an impossibly narrow waist but none of this concerned Harriet as she immediately introduced Yasmin to other dolls and began an imaginative game.
Originally launched in 2001, Bratz dolls have now been updated for a new, tech-savvy generation and include a new friend, Raya. They encourage creative play to let children's imaginations free rein.
The new Bratz collection of dolls and playsets, includes:
Bratz Hello My Name Is™ reintroduces the core Bratz friends each with an iconic outfit that showcases their individual personalities along with a number of accessories true to their interests and hobbies (SRP: £14.99 each)
Bratz #SelfieSnaps™ lets fans get to know the Bratz friends via their selfie snap styles and fun emoji icons. Each doll comes with tech-inspired accessories, their own smartphone and two phone cases (SRP: £16.99)
Bratz Fierce Fitness™ showcases Bratz's healthy hobbies in a fashionable and fun way. Hit the trails with Cloe in her visor, backpack and binoculars or rev for a race with Jade and her sports
bag, comb and hydration bottle. Yasmin is channeling her inner namaste with a yoga mat and gear (SRP:£16.99)
Bratz Study Abroad explores incredible countries around the world. Each doll adopts the culture's traditional fashion and styles those unique elements into their own wardrobe (SRP: £24.99)
Bratz #SnowKissed celebrates Bratz's love for fun winter activities. Each Bratz comes ready to hit the slopes in stylish snow gear including an après ski outfit, hot cocoa mug and a sticker sheet to customise their snowboards, sleds or skis. (SRP: £32.99)
PWT rating: ♥♥♥♥♥
Part of the MGA Entertainment portfolio, the latest Bratz dolls are available from Amazon and toy retailers.