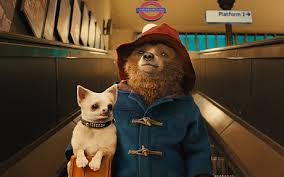 One of my favourite Paddington stories by Michael Bond is a charming tale of the loveable little bear being unable to pronounce "knickerbocker glory". And now this childlike, marmalade sandwich-eating hero has been transformed by CGI and perfectly voiced by Ben Wishaw into the star of a fabulous family film.
When an earthquake in darkest Peru kills his uncle, aunt Lucy retires to a "bear home" and sends Paddington off to London to find the explorer, Mr Monrgomery, who had visited them many years before and had left them with his hat and the assurance they would be welcome in London should they ever visit... Paddington arrives at the Paddington station and manages to adopt – "just for one night" – Henry and Mary Brown (Hugh Bonneville whom children may remember as Mr Stink and Sally Hawkins) their children and the zany Mrs Bird (Julie Walters).
As he wreaks havoc in their home and evenutally leaves in disgrace, we see London through the eyes of a small naive bear who has no idea that he is being hunted down by the evil taxidermist Millicent, aided and abetted by the Browns' nosey neighbour Mr Curry (Peter Capaldi)...
This splendid family film was given a PG rating by the British Board of Film Classification (BBFC) for "dangerous behaviour, mild threat, innuendo, infrequent mild bad language" which seems ridiculous given what children can see on television before the 9pm watershed. However Harriet (four and a half) was really scared by Millicent (an icy Cruella de Vil character) and sobbed at what she thought would be Paddinton's fate!
There are lots of laugh out loud moments and heart-string-tugging scenes. I loved the film and know many adults who are just as keen to see Paddington – accompanied or not by children.
PWT rating: ♥♥♥♥♥
Our thanks to Volvo Car UK for inviting us to their special screening.