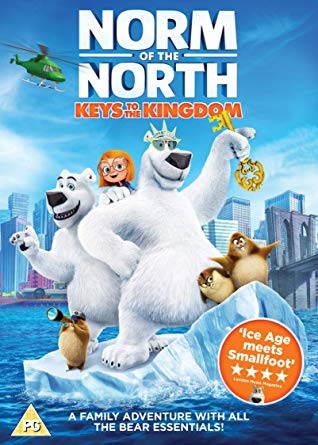 Norm is the newly crowned king of the North but suffers from a slight inferiority complex and is rather clumsy. So much so that his family fears for him when he travels to New York with one of his sons to accept the keys of the city.
However he wows the New Yorkers and becomes quite a hero with his refreshing charm until he is framed for a crime he did not commit but will find it hard to prove his innocence. While he and hid friends are tying to discover the true villain, a dastardly bottled-water company has moved into Norm's beloved Arctic and is stealing the ice...
Having cleared his name, Norm returns to sort out the water company – and his brother. This culminates in a winner-takes-all hockey match in which one side is leaving nothing to chance.
Harriet really enjoyed this film and loved picking up the clues and working out what would happen next.
A great family film for the half term.
PWT rating: ♥♥♥♥♥
Norm of the North: Keys to the Kingdom [DVD] [2018]
from Lionsgate Home Entertainment is available from Amazon.