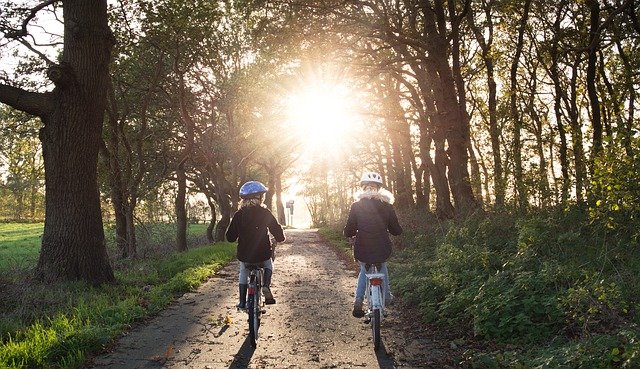 Exploring the great outdoors together is sure to be a much-cherished bonding experience for you and your family. But what if you would like to cover more ground than the typical family walk, or get more exercise out of the day?
Well, a family bike ride is a great way to go! It gives many outings a bit of an extra kick and a more stimulating sense of adventure.
Lots of Planning
On family trips, it is down to your kids to have a fun time without a care in the world. However, as an adult and a parent, you know you cannot enjoy the good times in quite the same way. There is fun to be had, but you need to be on your toes and have logistics in mind to make the most of things.
For example, will you always need to keep your bike with you, or does the place you are going to have storage? Do you want to go on a bike ride in a local, public area at any time, or are you going further afield where timing is key? Cycling holidays with storage options are absolutely a thing, and they'll require a lot more attention when you are putting them together.
Your property and your rights around it are also incredibly important. Consider bike theft insurance, for example, if you want a stress-free outing. After all, bikes can be expensive, and if someone steals yours it could set you back a great deal of money – but not so with the right insurance.
Bike Checks
It is important that everyone is safe on your trip. Therefore, you should compile a quick checklist of things to look out for with the bikes before you all start peddling.
Tyres need to have enough air in them, chains need to be oiled up, and the breaks on each bike need to be up to scratch. There is handy checklists out there if you need to further research what to watch out for, so keep all of these things in mind.
Of course, knowing that all the bikes are in good condition will take a lot off your mind while the trip is underway. You do not want things to screech to a grinding halt when a bike needs some care. Checks before, then you are good to go… but maybe bring a bike pump just in case.
Treasure the Moments
From sprawling mountain ranges to picturesque woodlands, there is so much to see on a family biking trip. Needless to say, the world is chock full of amazing cycle routes, and it is important you appreciate the ones you visit in the right way.
While you are on a bike ride, it is important to periodically stop and take in all your surroundings. Obviously, bicycles are exhilarating to peddle and it is exciting to get that rush with all the speeding around, but if you are not careful, the whole trip will pass you by in a (admittedly awesome) blur.
Here and there, stop the cavalry and look around, especially if you have gone to somewhere scenic. Good spots include hilltops, riversides, and anywhere else, you are guaranteed a magical view.