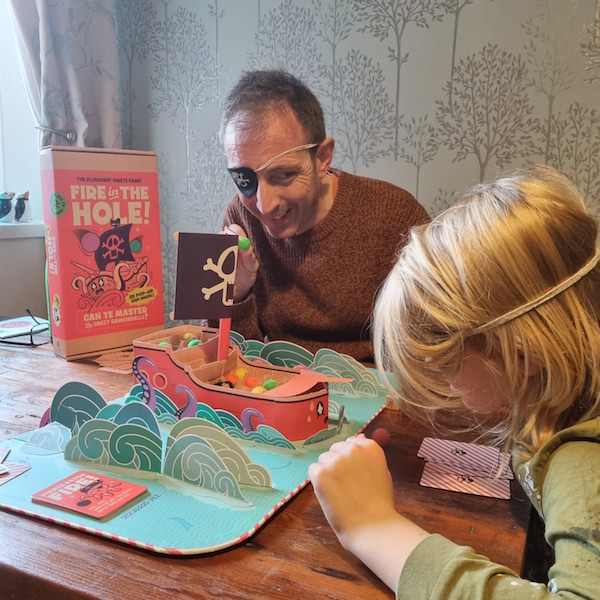 The Fire in The Hole box is bright, engaging and child friendly. In fact, as soon as we opened the parcel our son was instantly intrigued and wanted to dive straight into it.
The packaging much like the game set up is glorious. It is so well designed and thought out, right down to the presentation in the box. You open the box up and right there in front of you attached to the bottom of the board are the instructions on game set up and play. What's more thematically staying true to the pirate theme as the instructions are like an easy-to-follow pirate treasure map.
The game set-up itself is beautiful – a fold out board and the pirate ship pops up as if rising from the murky depths of the sea. All you need to add is the Mast, which can be found in a pocket cleverly placed as you open the board.
Game play is simple: be the first pirate to get four cannonballs linked to win the game. Simple right? Yes, until you introduce the pirate eye-patches and the different play cards that try and scupper or help you win the title of best pirate!
As a family we played this several times and our son just couldn't get enough.
It mixes skill and dexterity as you fling your cannonballs with one eye covered, or even worse both eyes closed, to try to get that illustrious four linked. I must say I came close a few times but then disaster struck as Ben was lucky enough to get the "swap yer colours" card and then stole my cannonballs. At other times I'd perfectly lined up the cannonballs and then our son turned the ship with the "Thar she blows" card so that it was harder to get that four linked! To be honest I think some of the scurvy pirates were working together to scupper me voyage!
This game is not only great but sustainable as well as it is 100 per cent plastic free, biodegradable and carbon neutral in its production and shipping.
The game designers even added special features like "set the mood" QR code that links to pirate music on their website.
I can already see this game being played on family game nights regularly, I can also see this game being played when friends come round to have a few glasses of grog. Suitable for children aged seven plus, two to four players.
Big thumbs up from us and a big thumbs up from our son who liked it so much drew a picture of the front of the box and rated it as a 10/10!
PWT Rating: ♥♥♥♥♥
Fire in The Hole costs £29.99 and is available from McMiller.