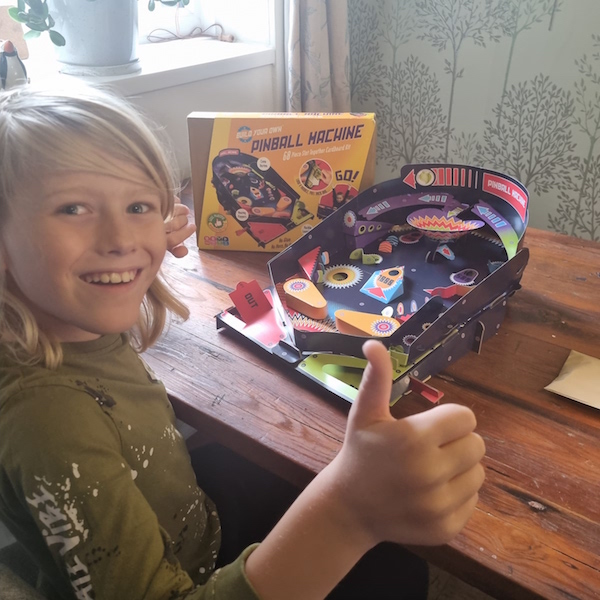 A planet-friendly take on the traditional arcade game, this super cool tabletop Pinball Machine provides hours of entertainment. Play alone or challenge your friends and family, who will win?
Load your swirly glass marbles into the spring-loaded launcher and let the game begin! Will your marbles whizz along the top ramp or spin around the vortex cone? Use the elastic-band powered flippers to keep your marbles in play for as long as possible and get the highest score! There are five targets to aim for in this fast-paced action-packed game.
The packaging much like the product is bright, engaging, sustainable and eco-friendly. When you look at it you instantly want to dive straight into it. Our son was super excited about doing the pinball machine since we researched the company for our first review. So we were very happy when we received it…
The kit was easy to build and all in all took an hour. It has easy to follow instructions and we only hit a stumbling block once, but we quickly solved the problem and were on our way again.
Big thumbs up for the play time afterwards. He spent a good 30 minutes before tea trying the get the most points that he could, and then after tea he was straight back to it again. We even as had competitions to see who could get the most points. Obviously youthful finger dexterity and eyesight helped a lot as our son won each round.
I must say this as well it is a sturdy kit, our boy is quite heavy handed and doesn't take it easy on any of his toys and it survived very well. (with only one repair needed when he pulled the spring too far!)
The Kit is the best one we have had. It fills an afternoon and is something the whole family can get involved in and have fun doing it, spending that much needed quality time together (especially now that schools are back)
A very good product overall and one that we would be happy to recommend to any of our friends, family or viewers.
PWT rating: ♥♥♥♥♥
Available from Build Your Own and Amazon