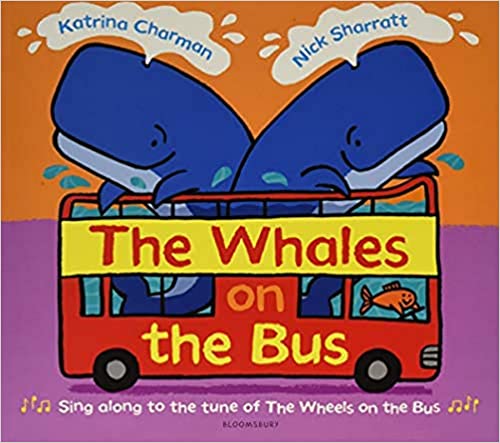 The BookTrust Storytime Prize, which celebrates the very best books for sharing with babies and young children, has been awarded to The Whales on the Bus written by Katrina Charman and illustrated by Nick Sharratt.
The prestigious, annual prize promotes the life-changing benefits of sharing stories with young children and, new for this year, the shortlist formed part of an ambitious national library experience piloted by the UK's largest children's reading charity, BookTrust. Through BookTrust Storytime, the charity has been working in close partnership with libraries and local authorities to pilot new ways to support families with young children – especially those who are disadvantaged – engage with their local public library, helping kick-start their reading journey, so that sharing stories become a regular and long-lasting part of family life.
The librarians and families who took part in the initiative voted for The Whales on the Bus as the 2021 prize winner based on how families and young children responded to and enjoyed the shortlisted books during BookTrust Storytime sessions. Families and librarians praised the interactive reimagining of this familiar nursery rhyme as a 'winning formula', enjoying the playful way the story encouraged all the family to join in with a singalong, how the inventive tongue twisters and rhymes introduced new words, the appealing character cast of animals and vehicles, and the fantastically bright and bold illustrations.
Available from bookshops and Amazon and published by Bloomsbury Children's The Whales on the Bus (New Nursery Rhymes)
The other shortlisted titles are:
I Really, Really Need a Wee! by Karl Newson & Duncan Beedie (Little Tiger Press)
Octopus Shocktopus!Octopus by Peter Bently & Steven Lenton (Nosy Crow)
No! Said Rabbit: 1 by Marjoke Henrichs (Scallywag Press)
Lenny and Wilbur (Lenny Books): by Ken Wilson-Max (Alanna Max)
Arlo The Lion Who Couldn't Sleep by Catherine Rayner (Macmillan Children's Books)