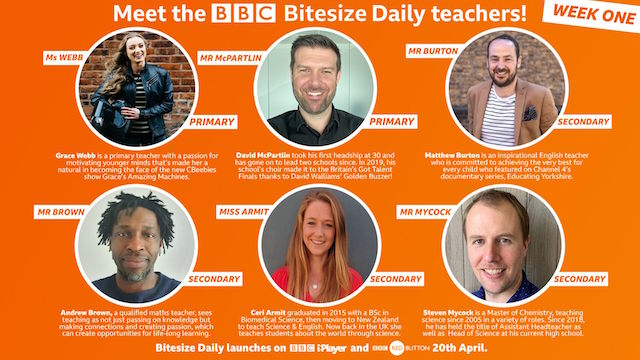 The BBC opens the doors to its biggest ever education offer, Bitesize Daily, from Monday 20 April, and the teaching roll call looks mightily impressive with a register full of familiar names.
Collaborating with teachers and education specialists, the impressive roster has been compiled in just four weeks and will offer 14 weeks of curriculum based learning for kids across the UK.
Renowned physicist, Professor Brian Cox will bring science lessons to life as only he can as he covers topics including the solar system, force and gravity.
Sergio Aguero, Manchester City's star striker, famed for his precision and skill on the pitch, turns his attention to numbers as he sets about getting kids across the country counting in Spanish! And former MP, Ed Balls continues the number theme as he goes back to his political roots in economics to deliver a KS3 maths class.
Danny Dyer, EastEnders actor and direct descendant of King Edward III, delivers the facts on another historic king, Henry VIII as he brings history to KS1 pupils whilst Doctor Who's Jodie Whittaker will also be dropping into Bitesize Daily lessons.
Sir David Attenborough, known the world over for his natural history documentaries, is also set to be involved, helping youngsters to learn about the oceans, mapping the world and why animals look the way they do.
Reading and music come together as Liam Payne, Mabel and a host of musical stars take part in a week long Musical Big Read – an extension to a weekly Book Club that will run throughout the 14 week term and see stars including Anita Rani and Oti Mabuse read books aimed at both primary and secondary aged kids.
Both in front of and behind the camera, over 200 teachers have come together to help the nations kids keep learning whilst schools are closed. They will all front daily lessons available from 9am each week day on BBC iPlayer and BBC Red Button.
A host of familiar faces are also signed up to keep students motivated and on track with inspirational messages of support and tips on how to stay focused.
The BBC is delivering the biggest Education offering in its history to ensure that kids across the UK have access to curriculum supported learning for the summer term, working closely with trusted education providers, teachers and partners. All elements of Bitesize Daily have been developed with teaching professionals.

BBC Bitesize Daily will deliver a tailored day of learning across BBC iPlayer, Red Button, BBC Bitesize website and app, BBC Four and BBC Sounds, with curriculum relevant offers across the UK. Together, this comprehensive package is aimed at minimising disruption to children's education and providing rhythm and routine in these challenging times.
BBC Bitesize Daily
Every day, 6 x 20 min programmes, Bitesize Daily, will air on BBC iPlayer and BBC Red Button targeting six age groups, from 5 to 14, where teachers, experts and famous faces cover off what that age group should be learning that day. Each programme will be available on BBC iPlayer as well as having its own regular slot on BBC Red Button aiding routine and daily structure.
From Bitesize Daily, parents and children will be directed online to BBC Bitesize for an age appropriate 'daily drop' of specially curated videos, quizzes, podcasts and worksheets to bring to life core curriculum subjects such as Maths, English and Science. As well as being offered suggestions on how to extend learning around the home.
These shows are aimed at all children across the UK and split into age groups 5-7 years, 7-9 years, 9-11 years, 11- 12, 12-13 years and 13-14 years.
BBC Bitesize Daily launches Monday 20 April across BBC iPlayer, Red Button and online at www.bbc.co.uk/Bitesize