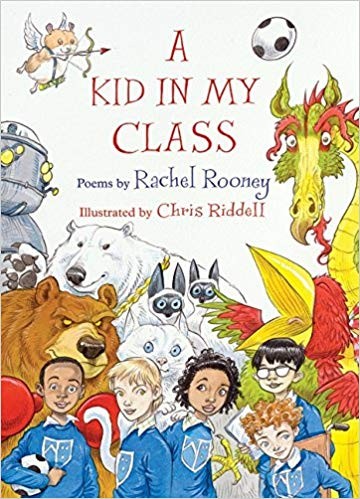 What a perfect introduction to comic verse, A Kid in my Class by Rachel Rooney is. Complemented by Chris Riddell's excellent illustrations, each poem is a glimpse of school life that can be sad, funny or thought-provoking.
These poems will bring back memories for adults as well as offering talking points for discussion with primary aged children (maybe older kids as well).
Harriet immediately identified me as "The Drama Queen" as I'd made a fuss over a broken nail and mentioned a few friends in her class. She absolutely loved this book and I don't think I've ever seen her laugh so much (tears streaming down her face) as when we read "Accident Prone" her favourite in the collection.
She loved the way the language disintegrated into "weird words" in Copycat and thought "Tips for the New Boy" was very funny with "things that wouldn't really happen like fire alarm and first person out gets a prize".
Children and adults can identify with the kids in the poems or know someone who fits the bill. And keep a look out for the class hamster.
Perfect for introducing conversations about tricky subjects or allowing a child to tak about something that may be puzzling or worrying her.
Highly recommended and every class should have a copy on their bookshelves.
PWT rating: ♥♥♥♥♥
A Kid in My Class
by Rachel Rooney and with illustrations by Chris Riddell from Otter-Barry Books, is available from Amazon and book shops.
Rachel Rooney worked as a teacher of special needs children while also bringing up her three sons. She is much in demand for school workshops, and for performances of her work at festivals. Her first poetry collection, The Language of Cat, was published in 2011 and won the CLPE prize, followed by My Life as a Goldfish in 2014. She lives in Brighton.
Chris Riddell, Children's Laureate 2015-17, is internationally renowned both as artist and author. His awards include the Kate Greenaway Medal (2002, 2004), the Costa Children's Book Award (2013), and the Hay Festival Medal for Illustration (2015). He is currently president of the School Library Association. His bestselling books include the Goth Girl series, the Coraline series, The Sleeper and the Spindle with Neil Gaiman and A Great Big Cuddle with Michael Rosen. He lives in Brighton, UK.