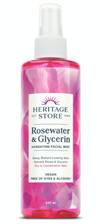 Using a hydrating facial mist is a great way to revitalise how your skin feels during hot weather or while travelling, I also use it if I wake up during the night – especially sultry weather.
Heritage Store's Rosewater & Glycerin Hydrating Facial Mist is designed to "feed skin and energise the soul", and is part of their range of clean, vegan and cruelty-free products that retail for less than £20.
Heritage Store Rosewater and Glycerin locks in moisture and leaves your skin feeling great. Use it to replenish dry, tight or weather-stressed skin with a medley of three dew-boosting ingredients: Damask Rose Oil + Vor-Mag™ Water + Glycerin.
Glycerin locks in moisture, while Vor-mag water is believed to raise the energy to a higher vibration. Skin will be left looking dewy and glowing.
Insider tip: Mist over face, hair and scalp for a glowing finish or as a natural makeup setting spray.
RRP: £11.49 and is available at Superdrug.com and Amazon.
Discover more about he Heritage Store range here.