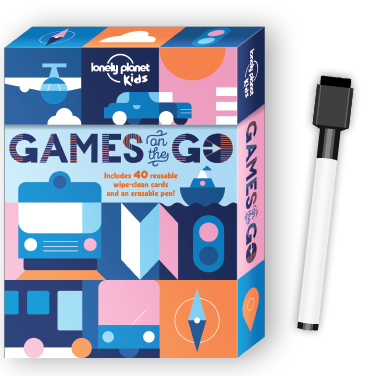 Banish boredom when travelling, in restaurants or when visiting with Games on the Go, a bumper pack of family fun from Lonely Planet Kids.
This colourful mix of brainteasers, games, drawing challenges, word searches and more will keep children entertained, just about anywhere.
Harriet couldn't wait to open the box and simply loved the games and challenges inside. Her favourite is the word searches but there's much more to explore.
The 40 wipe-clean cards come with a dry-erase pen, all stored in a small, handy box which fits easily into carry-on luggage, or in a car's glove compartment or their own bag.
Games include:
Road trip bingo

Turning fingerprints into colourful friends

Amazon rainforest-themed crossword

Drawing suitcase contents

Drawing favourite meals

Making star constellations

Designing flags

Drawing city skylines

And much, much more
Makes a perfect present and is highly recommended.
PWT rating: ♥♥♥♥♥
Games on the Go (Lonely Planet Kids)
by Lonely Planet Kids is available from Amazon.