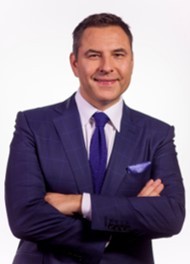 The National Young Writers' Awards returns this year with world renowned best-selling children's author David Walliams named judge. The competition, organised by tuition provider, Explore Learning, has been running for ten years and has inspired hundreds of thousands of children across the UK to put pen to paper and give writing a try.
The theme for this year is "Heroes" – children are asked to write a 500 word story all about their hero, whether that be their parent, a policeman or an idol they aspire to be like and Explore Learning cannot wait to hear some of the very best in heroic tales.
David Walliams has become one of the most influential children's writers today. Since the publication of his ground-breaking first novel, The Boy in the Dress (2008), Walliams has published ten novels, three short stories and six picture books, and his books have been translated into fifty-three languages.
David will surprise the winner of this year's award at a school assembly, presenting a trophy, a trip to Disneyland Paris for their family and £500 of books for their school. The top ten entries will also receive £250 worth of books for their schools from Letts Revision, plus a large print of the opening line of their story by QuirkyLime. Each of the regional winners will also win £50 worth of books. Every child who enters will receive a certificate to celebrate their story, along with personalised feedback from one of Explore Learning's tutors.
The competition runs from Monday 5 March until Sunday 29 April and is open to children aged four to 14 anywhere in the UK – from enthusiastic young writers to those who feel less confident.
Explore Learning will be running a number of creative writing workshops in their centres all over the country with some amazing authors. Plus throughout the next four months they will provide some top writing tips from their creative writing team, previous winners, judges and best-selling authors via their website, social media and face to face. They will also be hosting a collection of free downloadable information on their website that can be used at home or in the classroom as well as running free workshops with local libraries, schools and community groups to inspire children's love of writing and support them with their entries.
It's easy to enter. Children are invited to pick up an entry form from their local Explore Learning or via their website. Simply hand the story back in, file online or send to Explore Learning's head office at NYWA, Explore Learning, 74 North Street, Guildford, GU1 4AW. Don't forget to include your contact information so they can get in touch if your child wins.
About Explore Learning – an award-winning English and maths tuition company with 136 centres located all over the country. Over 35,000 children aged four to 14 attend the centres each week. Explore Learning's aim is to help every child reach their full potential and get the best results they can, but more importantly develop a generation of fearless learners.