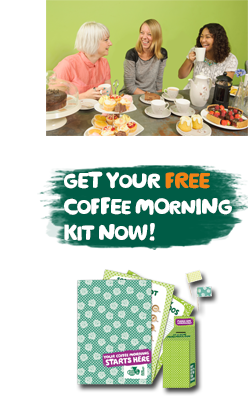 Cancer is the toughest fight most of us will ever face. And as treatments improve, more and more people are living with cancer in their daily lives. The money you raise at your coffee morning will help make sure no one has to face cancer alone, from the moment they're diagnosed, through treatment and beyond.
There's nothing better than catching up with friends over coffee and cake so gather everyone together on Friday 26 September for the World's Biggest Coffee Morning and help Macmillan be there for more people living with cancer.
It can be as simple or as fancy as you like. Cupcakes with swirly icing. Oozing brownies. Or cheat all the way with shop-bought treats. It really doesn't matter. It's all about making time for friends and a great cause.
In 2013, 154,000 people signed up, raising a record £20 million.
Sign up now to get your free Coffee Morning Kit filled with cake flags, a table cover and lots more goodies to make your event a success.