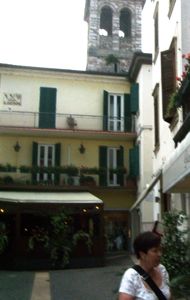 Restaurants
abound in
Peschiera Del Garda
so we walked around until we found what we thought would be a
very good choice
which proved to be the case.
At
Ristorante La Toretta da Alice e Mauro
there are no concessions to children with
special menus
but you will find a
warm
and
friendly welcome.
The lunchtime we went two
businessmen
shared the exterior (but enclosed)
dining area
with an elderly
German couple
and thee
families
with a range of children's ages from a young
teenager
to
toddlers.
The
menu
is varied and the
first course pasta dishes
an excellent choice for
children
- Olivia shared hers with Harriet. We skipped the
hors d'ouevres
but noticed the
family with teenager
had something from each course which I would have struggled to do as the
portions
were a
good size.
As we were by
Lake Garda
we opted for
fish dishes
(of which there was a
choice of about ten)
with
grilled vegetables
and some French fries.
Harriet sampled most
of this and was
encouraged
by the waitress (who, I assume, was the
Alice o
f the name) not to worry about
food
going on the
tablecloth
or
floor.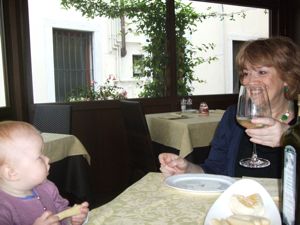 The
deserts
looked
appetising
and, had I had room, I'd have gone for the
selection of cheeses
but by that time we
were full
and Harriet had had enough of
sitting at a table!
There are
no baby changing facilities
and the toilet was the
old fashioned stand and squat
variety that I hadn't seen in an age and would have been
interesting
for an
older child!
The whole
restaurant
was exceptionally clean and we could see
Maura
grilling the food at the
rear of the interior.
We had a
half carafe of the house wine
which tasted like
Prosecco
and a bottle of sparkling water plus
bread
and the bill came to 52€.
Not cheap but worth it!
PWT rating
: ♥ ♥ ♥ ♥ ♥
Ristorante La Toretta da Alice e Mauro
12 Via G. Galilei
Peschiera del Garda
+39 0457550108