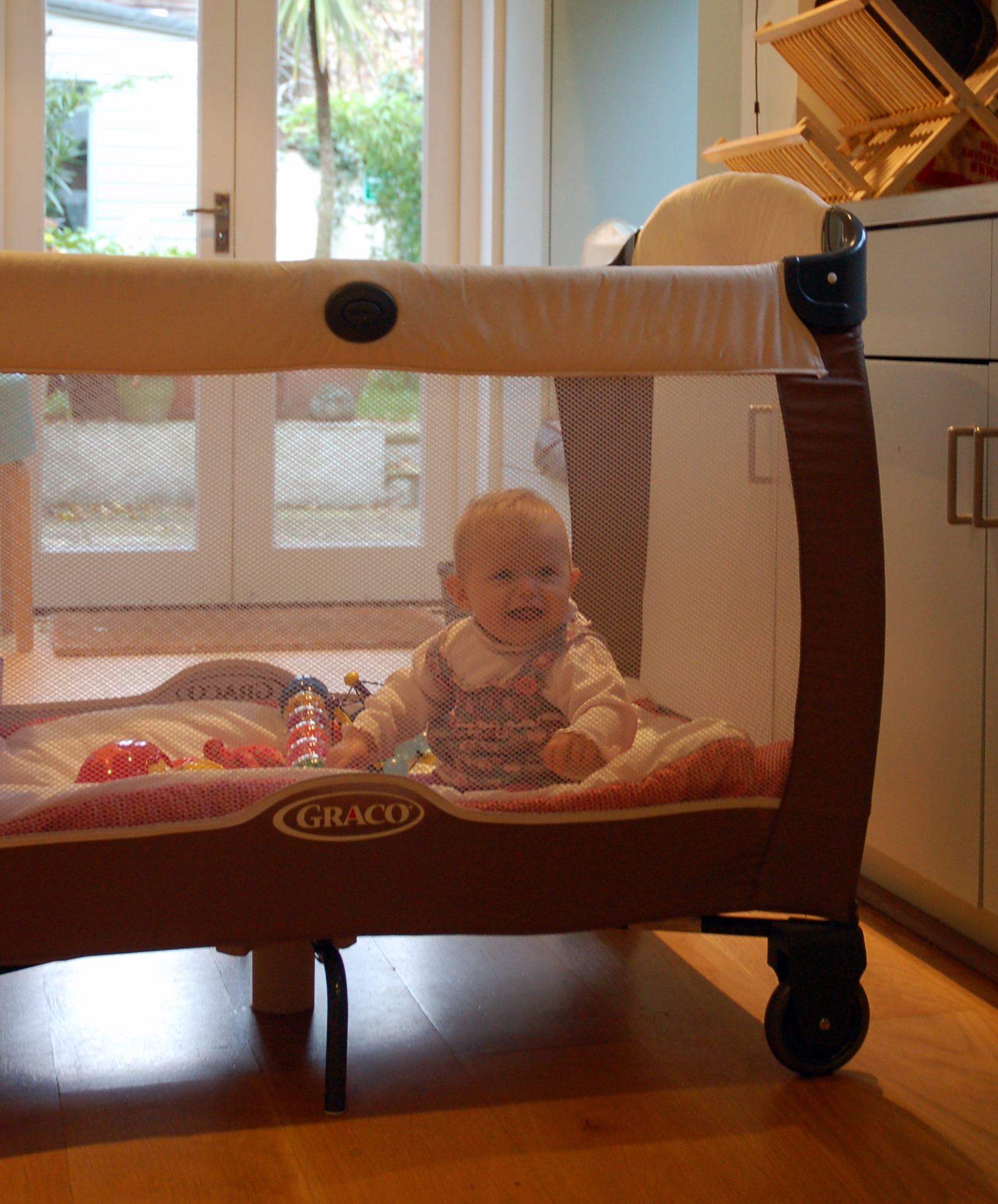 The Graco Contour Electra travel cot has been in permanent use in our house since it was delivered at the end of September. Pippa, aged eight months, uses the travel cot as a "safe" play area in our kitchen every day.
The cot has mesh sides which are easy to see through, and the travel cot looks great with its stylish cream and coffee colourway. No one could accuse it of jarring with contemporary family living the way that many pieces of large baby equipment tend to.

Setting up the cot was fiddly to begin with but soon becomes second nature. At the front are two wheels which make it easy to move around the house although it is too wide to fit through our doors so one can't simply wheel it from room to room.
This model is excellent quality, the construction is strong even when put to the test by a four year old boy swinging on its frame. The suede effect fabric can be wiped clean and the mattress appears comfortable although we are not using it as a bed on a day-to-day basis.

The model includes a changing station which unfolds and rests on top. Pippa was six months when we started to test the model and could roll at speed so I decided she was too old to be changed in this way. There is also a bassinette (with a soothing vibrating function) for use for newborns to about three months which is a brilliant design, alleviating the normal backbreaking stretch one has to endure to lower an infant into regular height travel cots. The bassinette sits at approximately bed height which is really handy for night feeds. Had we tested the Graco Contour Electra from birth I would probably have a very different view on the electrical features offered on this deluxe model but right now the lullabies unit, light and vibrating functions do not seem necessary.

This Graco product is a great travel cot with gorgeous aesthetics and sturdy construction. Where it has really come into its own for our family is as a safe (yet stylish) place for our little girl to play away from the hazards left out by her older brother. There is ample space to play and for a little one to practice her crawling.

The Contour Electra Deluxe is a really versatile travel cot. I would highly recommend the Graco Contour Electra but have not personally been able to test a number of the elements that make this the Deluxe model. Taking the classic cost analysis I apply to any purchase - that is number of uses divided by cost - then the Graco Contour Electra would serve you well.
The Contour Electra Deluxe travel cot/play pen retails at £99.99.
For stockists telephone 0844 412 1212 or visit www.graco.co.uk