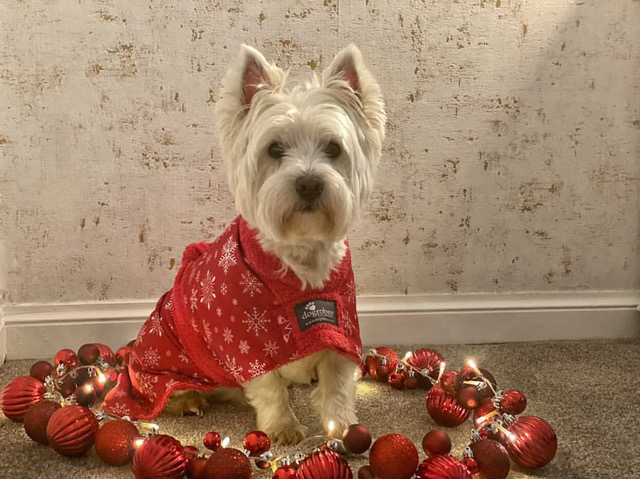 Christmas is the perfect time to treat our pets – after all they are a very important part of our families. Keeping them safe and dry is part and parcel of a post walk routine in the winter months. And while there are many alternatives on the market, we've found Dogrobes® to be excellent. The fabric is soft and comfy plus there is no velcro for dog fur to get caught in (believe me that is a major plus factor). The fabric washes well and dries quickly ready for the next outing.
Dogrobes® has the advantage of being a three-in-one dog coat:
Dries

– perfect way of drying your dog after outdoor adventures, swimming, training, bathing and working

Warms

– ideal way of keeping an older or poorly pooch warm

Comforts

– helps to relieve anxiety experienced as a result of fireworks, or during thunderstorms or car journeys
Fitting
Fitting is simple – just pop the Dogrobe® over your dog's head and straighten it down the back. Draw the ties up on each side of the body and tie loosely in a single loop on either side of the spine.
Different breeds will take longer or shorter times to dry but in general terms leave it on for 30 minutes then remove. Don't be tempted to leave your dog wearing the Dogrobe® unattended as some like to chew.
A great complement is the Snood which you fit after the Dogrobe® with the label at the front. The wide base of the Snood fits snugly over the robe. Your dog may shake his ears free and the Snood will remain in position to dry his neck and keep him looking stylish as well. There are other accessories from bandanas to bow ties, shampoo and dog treats to tempt you on the website.
Size guide
To make sure you get the right fit for your pooch, check out the size guide.
There are dedicated size guides for these breeds:
Border Terriers, Golden Retrievers, Greyhounds, Labradoodles, Miniature Schnauzers, Pugs ,Rottweilers, Shih Tzus and Toy Poodles. Plus there is also an option to have one made-to-measure.
PWT rating: ♥♥♥♥♥
Prices begin at £21.95 and can be ordered direct from Dogrobes®