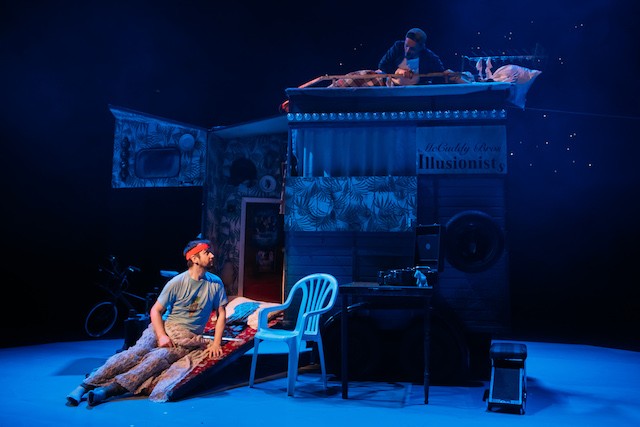 Photograph © Mihaela Bodlovic
Black Beauty, presented by Red Bridge Arts and Traverse Theatre Company is one of the funniest family shows I've seen. Anna Sewell's bestselling classic is at the heart of the show but is presented in a unique and original way which is sometimes hilarious, sometimes sad but ultimately uplifting.
Two brothers Big Andy, played by Paul Curley and Wee Andy, John Currivan, camp their horse-box beside the M25 and a public pay phone and await the call for that all elusive job for Hamish the pantomime horse. Horses are apparently out of favour – Daisy the cow is in. Perhaps they should just give up?
Harriet (aged nine and a half) loved this show. "It was so much better than I expected," she said on the way home after laughing excitedly and joining in when directed. The two Andys were spectacular and all the jokes were perfectly pitched for a family audience aged five and above.
I loved the production – a brilliant combination of physical theatre and story-telling. I don't want to say too much more as part of the joy of this show is not knowing what is coming next. The themes of loyalty, faith, love and perseverance shine throughout.
I will say that the ending is pure magic in a very special way. If you're looking for a fabulous theatrical experience this Christmas choose it Black Beauty.
PWT rating: ♥♥♥♥♥
Black Beauty runs until 5 January at the Purcell Room at Queen Elizabeth Hall, Southbank Centre.
For more information and to book click here.