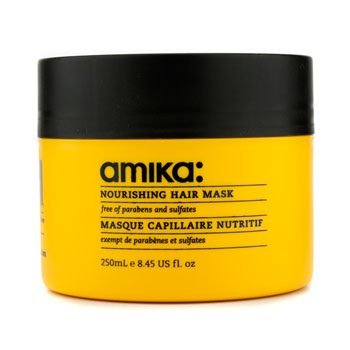 Amika Nourishing Mask contains natural ingredients which penetrate the surface of the hair to get to the root, sealing split ends and improving shine, elasticity and nourishment. Ideal for all hair types and is safe for colour treated hair and is free of parabens and sulphates. This products contains properties of the "super fruit" known as the which is known for its antioxidants nutrients.
I used this, as suggested on the instructions, as an "every day" conditioner although I actually used it every other day as my hair is quite greasy and I wash it most mornings in the shower.
I found it to be a very good product, nice smell, easy to use. A little goes a long way making it cost effective.
I left it on my hair whilst washing the rest of my body and then rinsed it out.
My hair was easier to comb through after towel drying it and there was definitely less hair coming out (always a bonus as one gets older).
It left my hair nicely conditioned and although the product smells nice in the pot, it thankfully didn't leave my hair smelling strongly. Again less hair came out on my brush whilst blow drying it.
My one criticism is the packaging which isn't that great... the tub is too large to fit on my shelf with my other products in the shower recess. The orange colour of the tub is a bit lurid too.
PWT rating: ♥♥♥♥♥
Salon Services Amika Nourishing Mask
is available at Sally stores, £19.99 and via Amazon.