Bestselling and award-winning haircare brand, SheaMoisture, have unveiled an exciting new line to the UK- their iconic African Black Soap & Bamboo Charcoal Haircare Collection, available at Look Fantastic £10.99-£12.99.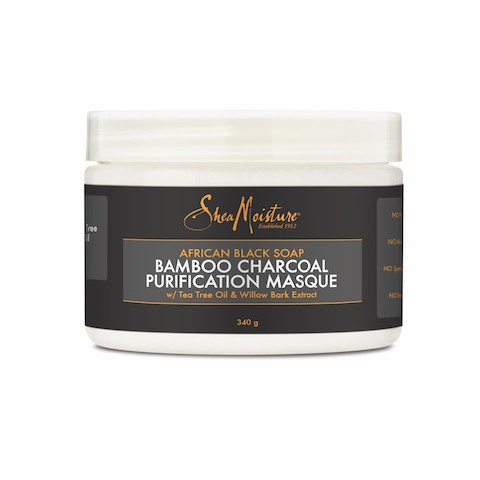 Formulated for those who suffer with irritated scalps and dry hair, this range contains a cocktail of ingredients to help promote hair health and leave locks with a gorgeous shine. With up to 40 per cent of women of colour looking for products to help address dry scalp/ hair problems, this range is the answer to hair and scalp problems,
Made with the finest natural, fair trade, certified organic ingredients, this collection is enriched with goodness and contains no nasties. The key ingredient, African Black Soap is a time honoured beauty secret that has been passed down for generations throughout Africa. For almost three decades, SheaMoisture have ensured that their Black African Soap continues to be made from the original family recipe of Grandma Sofi. Made from a mixture of leaves, cocoa pods, Shea tree bark and plantains (which are burned to an ash, giving its dark hue), it's then added to coconut oil and organic fair-trade shea butter – helping to hydrate locks.
Like every product in the SheaMoisture family, the organic Shea Butter is sourced from 15 women's co-ops in Northern Ghana, through SheaMoisture's purpose-driven Community Commerce business model, and ten per cent of the sales support investments in these communities. An ethical wage premium is paid co-ops members, and the brand aids in monitoring practices to ensure that the efficiency, health, profitability and quality of life is elevated for members of the co-ops.
For added benefits, this collection also includes added Bamboo Charcoal and Tea Tree Oil help to remove any impurities, excess oil and unwanted build up, all whilst providing hair with an enhanced shine and volume.
African Black Soap & Bamboo Charcoal Purification Masque, £12.99
This masque deeply conditions hair while relieving dry, itchy scalp which lots of us are more prone to during the winter due to central heating and wearing hats and scarves. This intensive treatment deeply conditions and removes product build-up while relieving itching, flaking and scalp irritation. Leaves scalp feeling comfortable and hair healthy-looking.
Apply to clean wet hair and distribute evenly with a wide-toothed comb. Leave on for five minutes then rinse thoroughly.
For a deeper conditioning treatment, cover hair with a plastic cap and apply moderate heat for up to 30 minutes. Rinse thoroughly. When using a hair steamer do not cover hair, moist heat will add to masque's hydration.
I also used the product when at a spa in the steam room. My hair felt really great afterwards – squeaky clean when rinsed off while soft and conditioned when dry.
PWT rating: ♥♥♥♥♥
Available at Look Fantastic £12.99/340g